ABSTRACT
Coconut is one of the essential industries in Malaysia. The value of coconut production is about RM666.70 (US$158.70) million, in 2021. However, the coconut industry in Malaysia is declining, and the government aspires to revitalize it into a dynamic and progressive industry. The low return is one factor that hinders farmers from venturing into coconut cultivation. The government has set many strategies and provides many incentives to enhance the industry. One of the strategies is diversifying the coconut business with new ventures of coconut-based products. Despite focusing on fresh products, Malaysia is looking at coconut-based products' business potential. The coconut-based products are the new source of wealth for Malaysia. The export value of coconut-based products increased from around RM700.60 (US$166.80) million in 2016 to more than RM1.14 (US$0.27) billion in 2020, and the government takes the opportunity to enhance this industry.
Keywords: coconut-based products, coconut industry, global markets
INTRODUCTION
Coconut is the fourth essential crop in terms of land usage in Malaysia, after oil palm, rubber, and paddy. More than 85,000 hectares of land are currently cultivated with coconut, mainly in the coastal areas of Peninsular Malaysia, such as Johor, Perak, and Selangor. Around 95% of areas are planted by small farmers, while the balance of 5% is by the estate and government institutions. More than 64,841 farmers are involved in coconut cultivation in 2020. In general, the productivity of smallholding farms is lower than that of the estate. For example, the yield of coconut from the estate is approximately 17.3 tons per hectare, while the output from smallholding farms is only 6.04 tons per hectare (DOA, 2021).
Malaysia is one of the most important coconut producers in the world. It was ranked number 10 in the list of coconut producers in 2020 and played a significant role in the global markets. Every year Malaysia exports coconut value around RM90.00 (US$21.42) million. However, the export value is decreasing every year. The coconut industry is declining in Malaysia. The land areas cultivated with coconut are reducing every year, and the production of coconut is also declining. Farmers replace their coconut with other crops such as oil palm or develop their land for other business activities. As a result, coconut exports have decreased from RM96.50 (US$22.98) million in 2016 to RM72.80 (US$17.33) million in 2020, dropping about 25%. At the same time, Malaysia's import is growing every year. The import increased by 147% to RM322.20 (US$76.71) million in 2020 from RM130.30 (US$31.02) million in 2016, mainly from fresh coconuts. The increase in imports is due to insufficient supply by local farmers. Malaysia imports fresh coconut, mainly from Indonesia, and then processes and re-exports the coconut-based products to world markets. Besides fresh coconut milk, Malaysia exports down-stream products such as copra, desiccated coconut, powdered coconut milk, activated carbon, coconut oil, coconut fiber, and coco-peat. Malaysia exported coconut-based products valued at around RM1.14 (US$0.27) billion in 2020, an increase from RM700.60 ((US$166.80) million in 2016.
The Malaysian government is concerned about this scenario and plans to revitalize the coconut industry and is also looking at other business potential. This paper discusses the business potential of coconut-based products from Malaysia to the global markets.
COCONUT-BASED PRODUCT INDUSTRY
It is estimated that more than 87 countries are cultivating coconuts, involving more than 11.6 million hectares and producing more than 62 billion nuts every year (FAO, 2021). The land area cultivated to coconuts decreased from 11.8 million hectares in 2011 to 11.6 million hectares in 2020. However, the production has increased from 58.6 million tons (2011) to 61.9 million tons (2020). Indonesia, India, and the Philippines are the three leading coconut producers producing 16.8 million tons, 14.7 million tons, and 14.5 million tons, respectively, in 2020. The major producing countries in the world are listed in Table 1.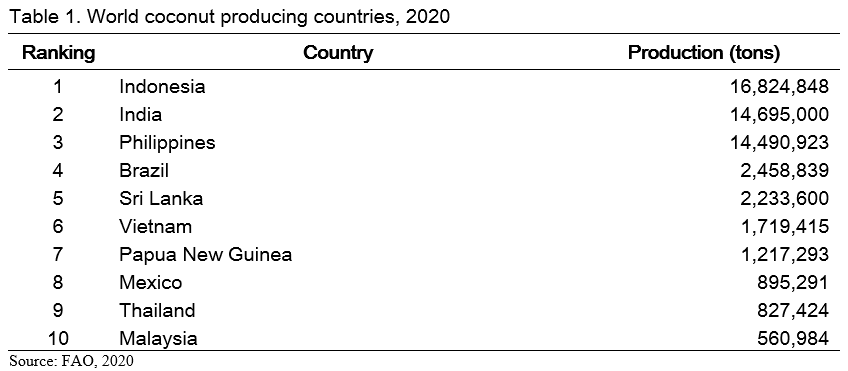 The Asia continent contributes more than 80% of coconut supply globally, and this commodity is the primary source of income for many countries. The coconut industry is projected to develop due to increased demand worldwide. In the last decade, the demand for coconuts has grown exponentially to 500%. Coconut was recognized as a "superfood" in the global market because of its many benefits to people. For example, coconut oil and water are in high demand to produce natural products such as soaps and toothpaste. The need for coconut products such as Coconut water and Virgin coconut oil has increased during the last decade mainly due to their health benefits. 
  The global coconut products market size was estimated at US$30.38 billion in 2018. Increasing awareness regarding the benefits of the products coupled with growing demand from major developed countries such as Europe and North America is expected to drive the demand. The coconut products market's cumulative average growth rate (CAGR) is forecasted to stabilize at 9.65% from 2020 to 2025. The growing preference for healthier dairy milk alternatives and naturalness is expected to increase the demand for coconut products.
The Asian and Pacific region was the prominent market for coconut-based products in 2018 and accounted for the major share in the global coconut product markets. This region is attributed to the high adoption of coconut products such as coconut oil, coconut water, coconut milk, and cream in various food and beverage and cosmetics. At the same time, North America and Europe are also potential markets for coconut-based products in the future. The key market segments for coconut are classified by application (food, beverage, cosmetic, and others), type (coconut water, coconut oil, coconut milk, dried coconut products, and others), form (solid or liquid), and by region (North America, Europe, and Asia-Pacific)
Virgin coconut oil is the oil extracted from the coconut without applying heat. It is extracted directly by cold compression of fresh, dried coconut meat. Virgin coconut oil is rich in antioxidants and medium-chain fatty acids. The Food and Agriculture Organization (FAO) forecasts that the global virgin coconut market will grow at a compound annual growth rate of 9.8% from 2016 to 2024. While the worldwide virgin coconut oil market accounted for US$2.1 billion in 2016, it is anticipated to deliver US$4.2 billion by 2024.
Besides its traditional products such as coconut water, coconut milk, and coconut powder, consumers worldwide are looking at other coconut-based products. The Food and Agriculture Organization (FAO) categorized three coconut-based products: i) kernel-based products, ii) fiber-based products, and iii) shell-based coconut products. The FAO also classified the products based on the Standard International Trade Classification (SITC) code as follows:

Coconut is an essential industry in Malaysia. The government has revitalized this industry by providing many incentives and subsidies. As a result, this industry was transformed from a 'dying industry' into a promising sector. The government started to open new land areas for coconuts. The land areas cultivated with coconuts have increased from 83,250 hectares in 2017 to 84,942 hectares in 2020. The government plans to increase coconut cultivation to 100,000 hectares in 2025.
Most of the coconut industry in Malaysia is carried out by smallholders who own farms of between 1.0 and 2.5 hectares. Most farmers grow tall-type coconuts like Malayan Tall that have matured or are old. Older trees produce low yields and generate low income as well. The average production from Malayan Tall coconut is 7,000 nuts per year. Therefore, the income from one hectare of Malayan Tall coconut is around RM400 (US$96.15) per month. Farmers need to change their coconut crops to new varieties that can produce high yields to increase income. For example, Matag and Pandan coconut trees can produce up to 25,000 nuts per hectare. The higher yield can generate an income of up to RM3,817 (US$917.54) per month. Farmers started replanting their crops with hybrid coconuts or dwarfed coconut trees that are easy to harvest.
Entrepreneurs are also exploring the business potential of coconuts by processing the coconut by-products such as the coconut shell and fiber. Coconut-based products are the added value of fresh coconuts. The value of coconut-based products is increasing every year which was about US$11.8 billion in 2018 and is estimated to reach more than US$31.5 billion in 2025. The increasing innovations in the field, leading to enhanced product quality and enriching its dietary value, also contribute to the market's growth. Coconut water and virgin coconut oil are the growing segments in the market. Coconut oil holds a significant share in the market with its increasing usage as cooking oil and skin and hair care benefits.
Shell-based products
The coconut shell is a coconut by-product. Previously, farmers burned the coconut shells or left them on the farms. Currently, the coconut shells are processed into charcoal and add a value of approximately RM1.40 (US$0.33) per kg. Shell charcoal is processed into two types of products: briquette charcoal and activated carbon, from which the former is sold at RM6.00-RM16.00 (US$1.42 -US3.80) per kilogram, depending on grade and quality. Various products can be produced with briquette charcoal and activated carbon, such as water filters, deodorants, restorative materials in the pharmaceutical industry, and mosquito repellent coils. One ton of coconut shell can produce 275 kg of shell charcoal to produce 150 kg of activated carbon.
Malaysia is one of the leading exporters of coconut-based products. Malaysia exported more than RM107.00 (US$25.50) million of coconut shell-based products to the world market in 2020. Despite the drop in the total export value, the export of shell-based products increased in 2018 due to higher demand from global markets. For example, the export of shell-based products grew around 24% between 2018 and 2019 due to the higher demand for activated carbon products in the world market.
The main markets of Malaysia's shell-based products are the ASEAN countries. Malaysia exported more than RM41.40 (US$9.85) million to ASEAN countries, especially Thailand, Singapore, and Vietnam, in 2020. The export of shell-based products was expanded to Japan and China, starting in 2018. More than 80% of the exports have shifted to these new markets. The export of shell-based products to the ASEAN countries is presented in Table 2.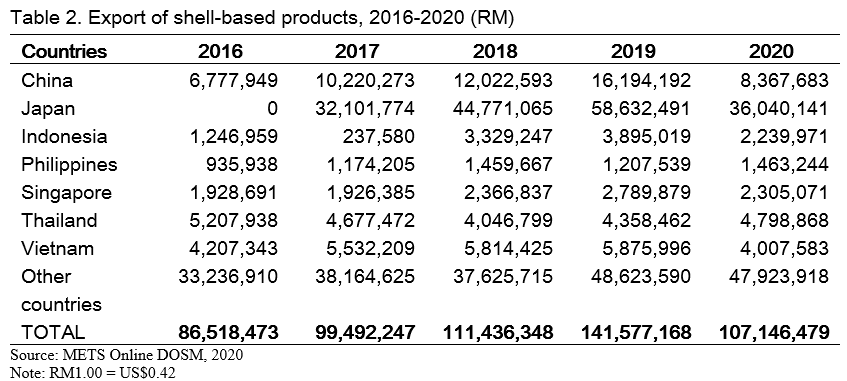 Fiber-based products
Coconut coir fiber, or in the world trade is known as coco fiber, is a byproduct of the processed coconut coir. It is extracted from the fibrous outer cover of the coconut nuts. They are white or light brown. Traditionally coconut coir fiber is only used for brooms, mats, ropes, and household tools. Coconut fiber that previously had no market value became of high value. Currently, the price of coconut fiber is RM0.15 (US$0.036) per kilogram. The processed fiber can produce coco peat and fiber. The market price of coco peat reaches RM7.00 (US$1.67) per kilogram or RM1.40 (US$0.33) per kilogram, while the market price of fiber is RM1.20 per kilogram. Coco peat is marketed to agricultural operators for fertigation and seedling purposes, while fiber is marketed to mattresses and cushion manufacturers, carpet, upholstery, and vehicle dashboards.
Geo-textile made from coir mesh is durable, absorbs water, resists sunlight, facilitates seed germination, and is 100% biodegradable. Coir peat, a milling residue, is gaining economic importance as mulch, soil treatment, and a hydroponic growth medium. Coir fiber liners are environmentally friendly products and are used for indoor gardening. These products offer outstanding drainage and aeration to roots and prevent the plants from root rot.
The export of fiber-based products dropped from RM21.97 (US$5.21) million in 2012 to RM20.30 (US$4.83) million in 2020. The reduction in export is due to a shortage in production by local manufacturers. The local manufacturers obtained their raw materials from small farmers and imported them from Indonesia. The competition in getting the raw material has resulted in higher production cost. Consequently, the higher cost of production will diminish the competitive advantage of coconut fiber from Malaysia.
Crude coconut oil
Crude Coconut Oil (CNO) is known as "basic industrial grade oil." CNO is an end-product of squeezing out the oil from Copra (dried coconut meat) using an expeller press and then refining to eliminate impurities/contaminants. Coconut oil is mild on the skin; thus, it is used as a moisturizer. Crude oil has been a base of some soaps because of the natural moisturizing power of coconut oil. It is also used in making margarine and vegetable lard. However, crude oil is widely known as "the basic industrial grade oil." It is utilized as an alternative for petroleum. Crude oil has also been tested as feedstock for biodiesel which can be used as a diesel engine fuel. The usage of crude oil in vehicles had a positive response. It has reduced fuel consumption, lessened smoke emission, and lowered engine temperature while having more engine power.
 The Philippines is the largest exporter of crude coconut oil (US$530 million), comprising 51% of global exports. The average coconut oil price has increased from US$1,281/ton in 2014 to US$1,525/ton (2021) and is projected to further increase to US$1,591/ton in 2025. The increase in the price of coconut oil is a potential business opportunity for Malaysia. 
Malaysia also trades crude coconut oil. The export of unrefined coconut oil from Malaysia reached the highest level at RM773.00 (US$184.00) million in 2015 and was stable at RM881.44 (US$209.86) million in 2020. The main destinations of crude coconut oil from Malaysia are Turkey, Russia, Australia, Singapore, and Egypt. The export destination of Malaysia's crude coconut oil is presented in Table 3.

ISSUES AND CHALLENGES
The government aspires to revitalize the coconut industry into a modern, dynamic and prosperous industry. The Ministry of Agriculture and Food Industry carried out many initiatives and strategies to enhance the industry. The government encourages farmers to replant their crops with better varieties, such as hybrid and dwarf varieties. The Malaysian Agriculture Research and Development Institute (MARDI) introduced six new hybrid coconuts that could produce higher yields and better quality in 2018. However, some issues and challenges need serious attention from the government. Some of the problems and challenges are as follows:
Short supply of fresh coconuts due to increasing demand. The consumption per capita of coconut has increased from 19.4 kg per year in 2015 to 22.7 kg per year in 2020. The increase in consumption has decreased the self-sufficiency level of coconuts in Malaysia from 72.2% in 2015 to 68.2% in 2020. As a result, Malaysia needs to import more than 100 million nuts a year.
Operators of shell-based products have had to deal with high shell prices due to increased transportation and logistics costs. The source of material is far due to higher competition in the state of Selangor. Many coconut-base products factories are located in Selangor, while the farms are in Perak, Kelantan and Johor.
The traditional method of burning shells is against environmental laws. Manufacturers of fiber-based products have to compete with cheaper synthetic fiber products.
Only few local manufacturers are operating on fiber-based products, causing entrepreneurs to export fiber as a raw material. Exports of fiber as a raw material provide low returns compared to fiber-based products.
The supply of coconut fiber has also become increasingly difficult due to intense competition among entrepreneurs. Coconut fiber, which was previously available for free, has skyrocketed due to high demand from coco-peat operators.
The problem craft product entrepreneurs face is getting a skilled workforce. Competition to get skilled workers encourages entrepreneurs to use skilled foreign workforce from Indonesia and the Philippines.
WAY FORWARD
The coconut industry has long been established in Malaysia and is a daily use source for the local community. Twenty years ago, many plantation owners switched from coconut to oil palm due to the high price of palm oil. But now, many farmers are converting from oil palm to coconuts. Demand for coconut oil and coconut-based products increases every year, enabling farmers to earn a high income from coconut cultivation. Coconut is used as a food ingredient, but coconut-based products also have great business opportunities for farmers. 
The government aspires to revitalize the coconut industry as it promises great business potential in the future. Many strategies that could increase the productivity and quality of coconut have been outlined in the National Agro-food Policy (2021-2030). The government intensifies the research and development (R&D) related to the development of hybrid coconuts and provides incentives for the farmers to replant their palm trees with better clones or varieties. 
In 2018, the government allocated RM50 million (US$12 million) to develop the coconut industry so that it has the potential to become a new source of wealth for the country. The allocation is to encourage the development of the coconut industry, which will be implemented systematically, including programs to increase coconut production and selected high yield coconut seed production. Among the tremendous potential coconut varieties apart from Mataq coconut and Pandan coconut are Malaya Yellow Low Coconut (MYL) and Malaya Red Low Coconut (MRL). The initiatives under the coconut production program include a replanting approach, especially in traditional farms, group cultivation, and integration with other commodities.
MARDI has conducted R&D of hybrid coconut and has successfully produced six new varieties: Marleca, Myleca, Careni, Careca, Marena, and Mylag. These hybrid coconuts are dwarfed and can produce over 25,000 coconuts per hectare. The production of these hybrid coconuts is expected to start in 2029 and can increase the country's coconut production.
The government also started to diversify the coconut business activities. The focus is not only on fresh products but also on non-food products. Non-food products such as crude coconut oil, shell charcoal, activated carbon, and coco peat are highly demanded by domestic and foreign consumers. Business opportunities from the downstream coconut industry will be the catalyst for the entrepreneurs to increase production and encourage the government to further develop Malaysia's coconut industry. 
REFERENCES
Alit Pirmansah (2014). Review of the coconut statistically 2014. In coconut   statistically Yearbook 2014. Available at http://www.apccsec.org
Comtrade (2018). Available at http://comtrade.org
Export Development Board (2012). Industry capability Report: Coconut and coconut   based products, Sri Langka.
FAOSTAT (2020). Available at http://www.fao.org/faostat
Jabatan Pertanian Malaysia (DOA) (2021) Booklet statistik tanaman 2021