ABSTRACT
The animal vaccine industry is closely related to domestic epidemic prevention and safety, citizen health, and food safety; it also influences national agricultural economic output and relevant biotech industry development. Taiwan's animal vaccine industry, which includes nine animal vaccine factories, has accumulated 72 years of experience at the time of writing. Most of the developed products—mainly swine and avian vaccines—supply the domestic market. In 2020, a total of 3.093 billion doses of vaccines were certified, and 17% (514 million doses) of which were domestically produced. This indicates a reliance on vaccine imports in the Taiwan market. In the same year, Taiwan's imports of animal vaccines exceeded US$45.206 million, surpassing that of 2018 and 2019. From 2018 to 2020, Taiwan's animal vaccine exports increased from US$6.463 million to US$9.772 million, suggesting an expansion in the export market. Based on the number of certified doses of animal vaccines, vaccine prices, and export value of animal vaccines, the size of Taiwan's animal vaccine market was approximately US$145.34 million in 2020, and the market remained balanced between 2018 and 2020. At present, Taiwan's animal vaccine industry chain still has room for improvement. In recent years, the Council of Agriculture (COA) implemented exclusive development strategies for Taiwan's animal vaccine industry. These strategies, which involved research and development, manufacturing, laws and regulations, and marketing aspects, further strengthened the competitive advantages of Taiwan's animal vaccine industry. Additionally, the Agricultural Technology Research Institute (ATRI) established the Animal Vaccine Alliance to promote exchanges among the industry, government, academia, and research institutes, thereby enabling all stakeholders to understand the industry demands and propose corresponding solutions. However, despite the government's efforts, ample room for development remains in Taiwan's animal vaccine industry. Therefore, a comprehensive investment environment jointly constructed by the industry, government, academia, and research institutes is crucial for strengthening the overall competitiveness of the animal vaccine industry.
Keywords: animal vaccine industry, market size, industrial development strategies, industry−government–academia–institute collaboration
INTRODUCTION
Animal vaccines are biopharmaceutical products used to prevent the transmission of animal diseases. When animals are vaccinated, the protective immune responses are stimulated, which exhibit a prophylactic or therapeutic effect on the diseaseIt has a preventive or therapeutic effect on the disease. Animal vaccines are divided into the following categories according to the types of animals involved:
vaccines for livestock (e.g., pigs, poultry, cattle, sheep, and horses);
companion animals (e.g., dogs and cats); and
aquatic animals (e.g., fishes and shrimps).
A comprehensive vaccine immunization plan enables the proper protection of animals' health and the effective prevention of outbreaks and the spread of infectious diseases. In particular, the use of vaccines in livestock and aquacultural industries enhances the production performance of economic animals, prevents economic loss due to outbreaks, and ensures food safety. In response to problems associated with antibiotic resistance, the World Organisation for Animal Health and European Medicines Agency proposed replacing antibacterial agents with animal vaccines. The primary purposes of administering animal vaccines are (1) to prevent or mitigate disease outbreaks and promote the breeding of economic animals and health of companion animals, (2) prevent economic loss in the livestock and aquacultural industries due to disease outbreaks, (3) prevent the spread of zoonotic infectious diseases, (4) reduce antibiotic usage frequency and the amount and mitigate problems associated with antibiotic resistance, and (5) provide safe livestock and aquaculture food products to humans (Roth, 2011). According to market survey reports published by MarketsandMarkets (2020), the global market size for animal vaccines was US$8 billion in 2020 and is expected to reach US$11.3 billion by 2025 to yield a compound annual growth rate of 7.2%. In particular, vaccines for livestock have the most significant shares of all vaccines on the global animal vaccine market; the Asia-Pacific market is the fastest-growing vaccine market for livestock worldwide. The vaccine market for livestock has grown sustainably because of the continuous increase in the scale of the livestock industry, the incidence of animal diseases, and new infections. Moreover, the causes such as the decline in antibiotic usage, launching new products, implementation of government support programs, and improvement of farmers' knowledge of pandemic prevention also create advantages for this market. This report examined the animal vaccine industry's current status and development strategies in Taiwan and can be a reference for industrial investment and promotion.
CURRENT STATUS OF THE ANIMAL VACCINE INDUSTRY IN TAIWAN 
Taiwan's animal vaccine industry was first developed in 1949. Currently, Taiwan has one government-operated and eight privately-owned animal vaccine production plants. The government-operated plant is managed by the Animal Health Research Institute, Council of Agriculture (COA), Executive Yuan. And the privately-owned plants belong to Tafoong Vaccine & Biotech, Virbac Taiwan, Reber Genetics, Wonder Vax, Kaohsiung City Farmers' Association Biologicals Manufacturing Laboratory, United Biomedical, Formosa Biomedical, and Whole Asia Biotechnology & Pharmaceutical (discontinued). Companies related to animal vaccine development, such as the Animmune Corporation established in 2018, have also invested in the animal vaccine industry and formed a comprehensive animal vaccine business entity encompassing the processes of research and development, production, and marketing.
The products made by the animal vaccine production plants in Taiwan, which are primarily provided to the domestic market, mainly consist of vaccines for pigs, poultry, cattle, and sheep. However, no vaccines for horses, companion animals, or aquatic products have been produced. In 2020, the total number of certified doses of animal vaccines in Taiwan was 3.093 billion, with the 514 million doses produced domestically in Taiwan constituting 17% of the total number (Table 1). Animal vaccines are categorized as inactivated, live, and subunit vaccines according to the antigen used in their preparation (Jorge and Dellagostin, 2017). Inactivated vaccines are made from microorganisms (viruses, bacteria, other) that have been killed through chemical or physical processes, meaning the reproduction capabilities of microorganisms are destroyed and cannot cause diseases. Live vaccines are prepared using live viruses or bacteria with low pathogenicity; these viruses or bacteria may be produced through natural mutation, artificial chemical mutation, or genetic engineering. Subunit vaccines are prepared through the mixing of recombinant antigens created through genetic engineering with an adjuvant. At present, the primary commercial vaccines for pigs in Taiwan are inactivated (55.2% of all certified doses) and live (42.26% of all certified doses) vaccines. The most commercially available vaccines for poultry in Taiwan are live vaccines (77.90% of all certified doses). The cattle and sheep vaccines commercially available in Taiwan are inactivated vaccines and live vaccines separately. The major vaccines for dogs are inactivated vaccines (50.35% of all certified doses), whereas cat vaccines are mostly live vaccines (75.72% of all certified doses).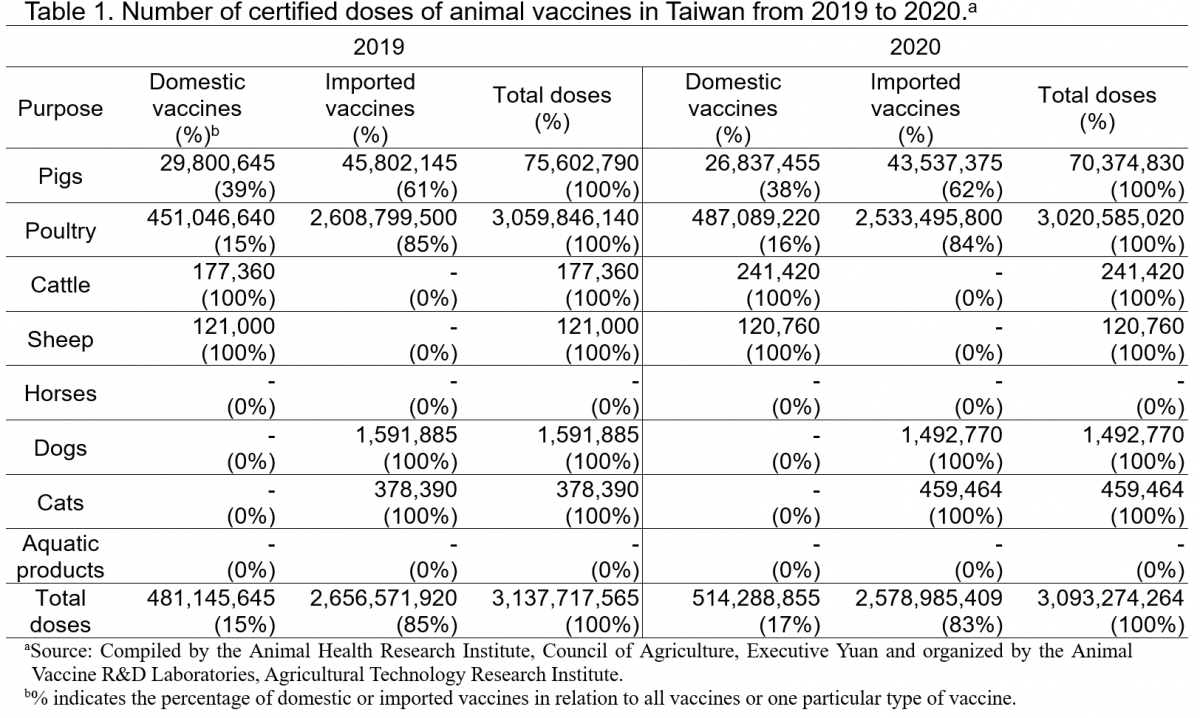 In 2020, the five most prominent poultry vaccines were those for preventing infections of Newcastle disease, infectious bronchitis, infectious bursal disease, and fowlpox. Which cumulatively accounted for 68% of the certified doses, and over 80% were imported vaccines. The five most prominent types of vaccines for pigs in the same year were those preventing infections of porcine circovirus type 2, hog cholera (classical swine fever), Actinobacillus pleuropneumoniae, Mycoplasma hyopneumoniae, and pseudorabies. Specifically, most of the vaccines used against porcine circovirus type 2 were imported, with only 6% domestically produced. However, all vaccines for hog cholera were domestically produced (Table 2).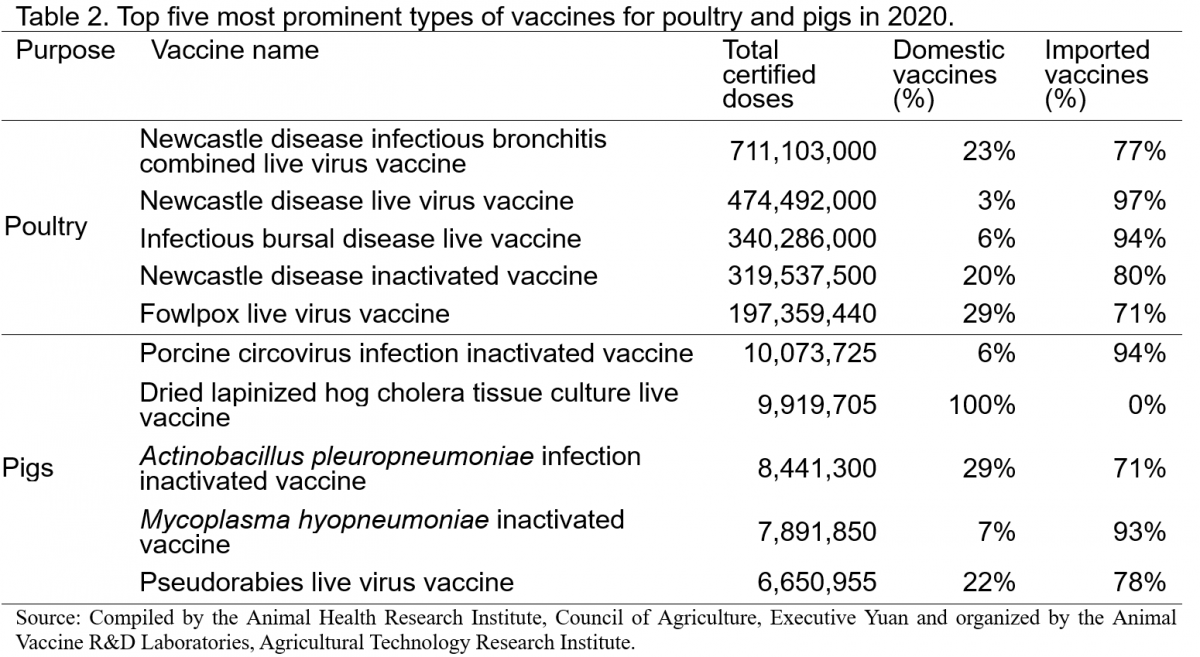 Taiwan is a country that has tended to have an import surplus of animal vaccines. In 2020, Taiwan spent more than US$45.493 million on animal vaccine imports, which is more than that paid in 2018 and 2019; however, the money that was made from animal vaccine exports has also increased gradually from US$6.463 million to US$9.772 million in the past three years (Figure 1). The compound annual growth rates of these imports and exports are 3.2% and 10.9%, respectively. Of the animal vaccines imported to Taiwan, those for the foot-and-mouth disease were imported from Russia, Argentina, the United Kingdom, and the United States. Moreover, the United States is the major exporting country before 2020, but Russia was the largest exporting country in 2020.
In contrast, all the other animal vaccines have primarily been imported from the United States. In 2020, the value of imports from the United States was nearly US$23.60 million, constituting 52% of the value of the total imports of the other mentioned animal vaccines. The second most prominent country that Taiwan has imported from is the Netherlands, followed by France, Hungary, and Spain. The other mentioned animal vaccines from the top five countries to Taiwan constituted 90% of the total value of imports.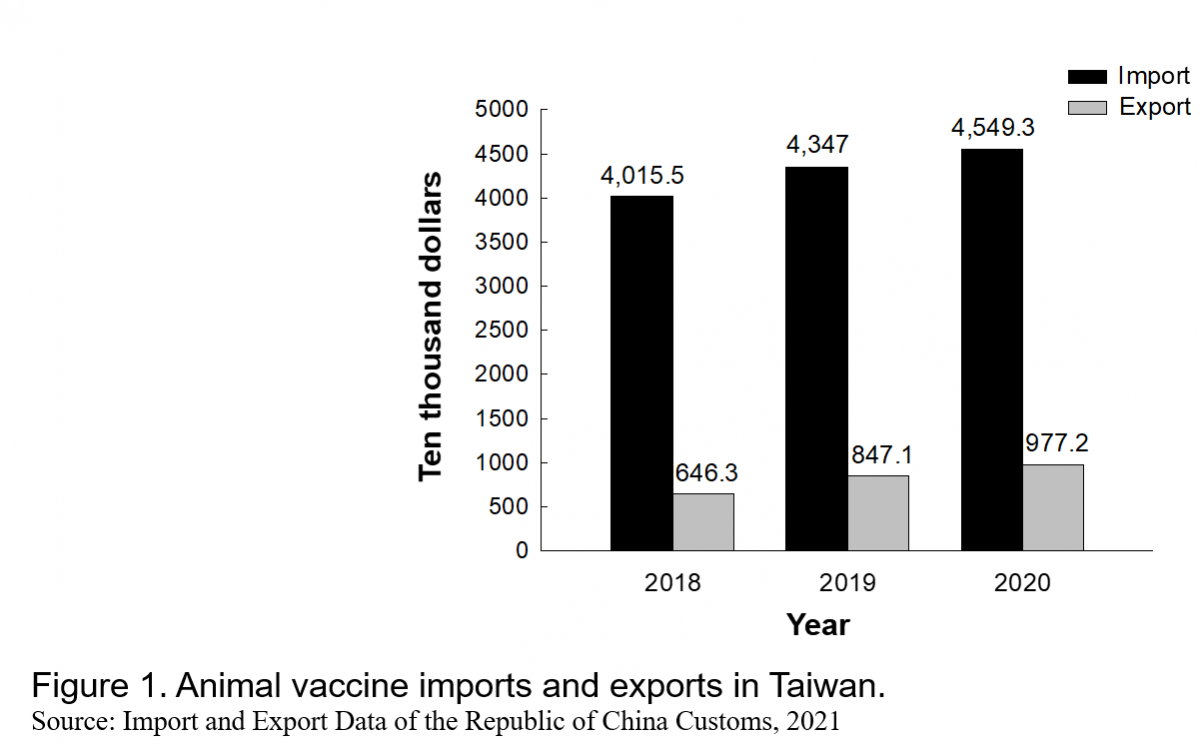 According to the number of certified doses, vaccine price, and value of animal vaccine exports in Taiwan, the animal vaccine market in Taiwan was valued at US$145.24 million, US$152.53 million, and US$145.34 million in 2018, 2019, and 2020, respectively. Figure 2 illustrates the market shares of each type of animal vaccine in 2020, and Table 3 presents a SWOT analysis of the animal vaccine industry in Taiwan.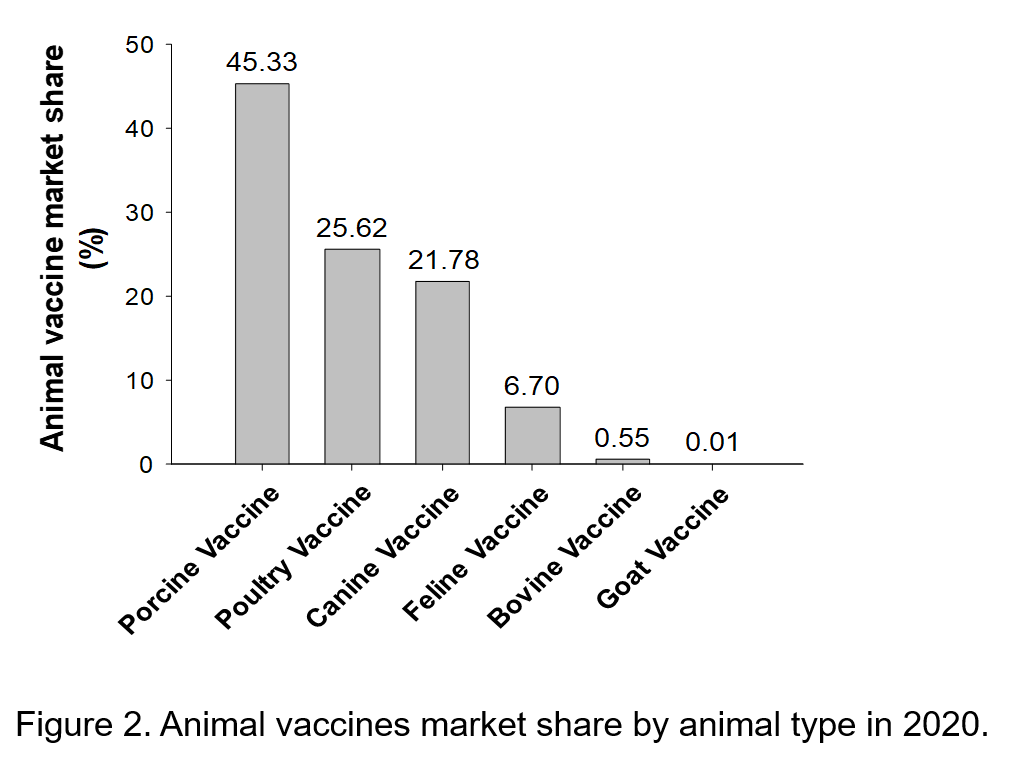 Table 3. SWOT Analysis of the Taiwanese Animal Vaccine Industry.
Strengths

Weaknesses

Globally, Asia exhibits the fastest growth for the animal vaccine market, and Taiwan has geographic advantages.
Taiwan boasts of abundant research and development (R&D) talent and international-level R&D capacity, and such existing talent and technical capability can shorten the commercialization schedule to 7 or 8 years.
The Pingtung Agricultural Biotechnology Park mainly focuses on developing animal vaccines, which can attract excellent domestic and foreign manufacturers to establish new factories there.
Having passed the GMP standard, the vaccines produced by animal vaccine manufacturers are excellent in quality. In addition, the sales network and system have been gradually established.
The government actively promotes the development of the animal vaccine industry. Specifically, the government allocates R&D funds, provides guidance to manufacturers, and bridges the gap between the industry and academia to promote cooperation projects, thereby driving the development of the industry to the next level.
The foundation for cross-sector collaboration among the industry, government, academia, and research institutions has been established. The effect of integrated strategies among the industry, government, academia, and research institutions on the animal vaccine industry development has gradually emerged.
The strategic model of "local production in Taiwan and international marketing" allows Taiwan's animal vaccine products to enter the global market.

Taiwan's animal vaccine manufacturers have small capital and lack international marketing capabilities, which affect their export competitiveness. Because domestic manufacturers mainly sell their products to international markets through distributors or agents, they have little understanding of customer needs.
Compared with international pharmaceutical companies, domestic manufacturers have lower R&D budgets, which reduce their R&D competitiveness.
The establishment and legal requirements of an animal vaccine manufacturer are related to the scale of the animal husbandry industry. Because the scale of Taiwan's animal husbandry industry is relatively small, attracting foreign direct investment is challenging.
The lack of technology and funds for animal vaccine manufacturers along with the relatively low product prices and small markets makes promoting cGMP difficult.
R&D in the academic and research fields often face predicaments such as mass production difficulties and high production costs, which hinder the commercialization of R&D results
Gaps exist in the human resources for mass production, manufacturing, and marketing of the industrial chain.

Opportunities

Threats

The prevalence of intensive farming has increased globally. Climate change and the trend of antibiotic withdrawal have rendered vaccines prominent in biosecurity measures.
International animal vaccine manufacturers are still in an active search for potential products. By adopting contract manufacturing, cooperative marketing, or mergers and acquisitions, these manufacturers strive for business opportunities.
Taiwan has a well-established R&D platform. Attracting foreign investments using novel products can serve as a crucial opportunity for Taiwan's animal vaccine industry development.
The production quality of Taiwan's biomedical industry aligns with global standards. Conforming to international cGMP guidelines can enable animal vaccine factories to accelerate the internationalization of commodities and effectively seize business opportunities.

International animal vaccine manufacturers have gradually increased their market scale by strategies such as continually merging with other companies, strengthening product quality, and reducing vaccine prices. These exert considerable impact on Taiwan's animal vaccine manufacturers
Countries worldwide actively establish funds to help manufacturers upgrade their manufacturing standards and capacity to the cGMP level.
To protect their vaccine industry, countries worldwide have revised their regulations to employ stricter import laws, which substantially impact Taiwan's export of vaccines.
China and Southeast Asia have large animal vaccine markets and low wage costs, both of which attract major international manufacturers to establish new factories.
With large capital and abundant human resources, major international manufacturers have additional capacity for improving the production process and designing market strategies. That would threaten the survival of small companies in this indstry.
STRATEGIES FOR DEVELOPING THE ANIMAL VACCINE INDUSTRY IN TAIWAN
The industrial chain of the animal vaccine industry, which is part of the pharmaceutical manufacturing industry, involves the stages of research and development, mass production testing, manufacturing, quality assurance, product introduction, use of marketing channels, market development, consumption, and provision of after-sales services. The upstream of this chain involves research institutions and equipment and raw material manufacturers; the midstream involves vaccine manufacturers, and the downstream involves consumers. Consumers'demands and consumption capabilities determine the size, prospects, and economic benefits of the animal vaccine market. The development of cutting-edge, innovative products demanded by the market is critical for developing the animal vaccine industry. The other key paths to industry development are as follows: (1) develop a manufacturing process that offers economic benefits; (2) continue reinforcing production quality assurance systems to improve product quality, ensure continued adherence to international regulations, and foster an image of high-value products; (3) construct a comprehensive supply chain for overseas exports and strive to seize international business opportunities; (4) establish regulations and procedures related to product registration as well as formulate solutions to problems encountered in the registration process.
Most Taiwanese animal vaccine manufacturers adopt streamlined operations, involving handing all manufacturing procedures from mass production to marketing channels. However, there is still some room for improvement in each stage of the industry chain. According to the development process of international benchmark animal vaccine companies, the factors for developing a successful vaccine company are as follows: (1) capacity to grasp epidemic causes promptly; (2) capacity for rapid vaccine development; (3) swift access to vaccine technology; (4) adequate vaccine manufacturing capacity; (5) global marketing capacity; (6) the extensive portfolio of veterinary vaccines; and (7) vaccine improvement capacity (MarketsandMarkets, 2020). Accordingly, Taiwan's animal vaccine industry must strengthen its research and development, manufacturing, production, marketing, and market analysis capacity to achieve stable and sustainable development.
To drive technological innovation and enhance the competitive advantages of Taiwan's animal vaccine industry, the COA encouraged R&D in the industry, implemented comprehensive laws, regulations, and policies, cultivated talents for advanced research and development, integrated research and development resources, counseled industry operators, and established strategic collaborative relationships with the industry, academia, and research institutes. Moreover, the COA has promoted the "industry questions, academics answer" strategy, authorized the ATRI to establish the Animal Vaccine Alliance, and employed alliance strategies to facilitate exchanges among the industry, government, academia, and research institutes. By thoroughly understanding the demands of vaccine companies and facilitating collaboration between the Animal Health Research Institute and vaccine R&D teams jointly established by higher education institutions, the COA supports the development of monovalent and polyvalent vaccines, vaccine adjuvants, and technological platforms in demand. In this manner, the council strengthens the overall competitiveness of Taiwan's animal vaccine industry. The government-implemented measures to enhance the development of the animal vaccine industry are as follows: (1) initiating government projects to support the development of cutting-edge animal vaccine technology and products; (2) promoting the integrated value-adding and market-matching of research and development results; (3) strengthening industrial collaboration, promoting technology transfer, and commercializing research and development results; (4) encouraging integrated R&D and collaboration between the animal vaccine industry chain and various fields and industries; (5) providing the animal vaccine industry with analysis, assessment, and development suggestions for potential markets; (6) introducing and cultivating industry key technology talents; (7) driving international collaboration between the animal vaccine industry and the adjuvant industry; (8) continuing the administrative operation of the Animal Vaccine Alliance and holding seminars to promote exchanges among the industry, government, academia, and research institutes, understand industry demands, and devise a development roadmap; (9) establishing the Current Good Manufacturing Practice (cGMP) standards for veterinary medical product manufacturers and providing counseling for the preliminary planning of veterinary medicine factories and for the upgrading of hardware; (10) establishing a comprehensive regulated domestic environment for managing the inspection and registration of veterinary medication; and (11) supporting domestic veterinary manufacturers in understanding the domestic and foreign animal vaccine registration systems and providing inquiry services.
CONCLUSION
For protecting national interests and meeting consumer needs, the industrial development of animal vaccines is crucial. Despite the government's efforts to promote growth in the animal vaccine industry, ample room for improvement remains. However, an attractive investment environment constantly maintained through a collaboration among the industry, government, academia, and research institutes that coordinate capital, talent, technologies, and laws and regulations are essential for creating innovative opportunities in Taiwan's animal vaccine industry.
REFERENCES
Animal Health Research Institute, Council of Agriculture, Executive Yuan. (2021). Number of certified doses of animal vaccines in Taiwan, Retrieved from https://www.nvri.gov.tw/main.aspx?pid=gdg1f3KlZqE%3d
Import and Export Data of the Republic of China Customs. (2021)1. Import and Export Data of the Republic of China Customs. Animal vaccine imports and exports in Taiwan. Retrieved from http://www.customs.gov.tw/statisticweb/News.aspx.
Jorge, S. and Dellagostin, O. (2017). The development of veterinary vaccines: a review of traditional methods and modern biotechnology approaches. Biotechnology Research and Innovation, 1, 6-13.
MarketsandMarkets. (2020). Veterinary Vaccines Market by Disease (Swine Pneumonia, Avian Influenza, Rabies, Coccidiosis, Brucellosis, Canine Distemper), Type (Poultry, Livestock, Aquaculture, Porcine, Canine), Technology (Inactivated, Toxoid, Recombinant) - Global Forecast to 2025, Retrieved from https://www.marketsandmarkets.com/Market-Reports/animal-veterinary-vacci...
Roth, J.A. (2011). Veterinary vaccines and their importance to animal health and public health. Procedia in Vaccinology, 5, 127-136.