Dr. Jeongbin Im
Professor
Department of Agricultural Economics and Rural Development
College of Agricultural and Life Science
Seoul National University
Seoul, Korea
E-mail: jeongbin@snu.ac.kr
Agro-food Export in Korea
Agricultural exports are considered important not only for Korean agriculture but also for the whole national economy. First, it is a leading factor in the growth of the agricultural industry and contributes to the farmhouse's income increase.  One of the basic characteristics of agro-food is low price elasticity of demand compared with other manufactured products. Therefore a little overproduction of agricultural products tends to cause price collapse and income decrease. However, agro-food exportation supports domestic price by promoting consumption of surplus products in the overseas market and eventually becomes effective in raising farm income.
Second, agro-food exports could motivate high quality production of agro-food to satisfy the international standard.  It could also help domestic product compete effectively with imported products.  Agro-food, which is expected to be exported should meet HACCP, ISO, GAP, and other kinds of safety and quality standard tests in production and distribution at the international level. Agro-food exportation catalyzes the advancement in domestic agro-food production and distribution system up to the advanced countries' level. In addition, building high quality production and distribution system with competitive safety guarantee will contribute in protecting the domestic industry from the influx of foreign agro-food.
Third, agro-food exports have been contributing to the national economy. Korea Rural Economic Institute (KREI) has calculated the contribution created from USD 10 billion of agro-food exportation to the national economy by using inter-industry analysis. According to results, such amount of agro-food exports generates USD 12.6 billion of production inducement effect, USD 4.5 billion of value added inducement effect, and creates 56,000 new job opportunities. Comparing with the impact of vehicle exports (NF sonata basis), the production and value added inducement effect of agro-food exportation are equivalent to the effect of 390,000 vehicles exportation and 470,000 vehicles exportation respectively.
Aside from this, agro-food exports contributes to the promotion of national prestige in the way Korean food culture spreads into the world.  It can also be conducive to restore confidence in the agriculture industry, enhance food security, and retain the good quality of the environment.
Thus Korean government is resolutely turning away from traditional domestic agro-food market which gradually reaches its limit. It then tries to elaborate relevant policies to positively expand agro-food exportation as Korea recognizes that the global creation of a new market and demand for Korean agro-food is one of the good approaches to attain the sustainable growth of Korea's agriculture.
Korea's situation of agro-food exports is summarized as follows. First, agro-food export has been steadily increased from USD 3,500 million in 1995 to USD 8,000 million in 2012 with an rate of average 5.4% per year. However annual growth rate of agro-food exportation is relatively modest compared to that of total exportation which has 9.1% average annual growth rate.

Second, the share of agro-food export in the total national export decreased from 2.8% in 1995 to 2.3% in 1998.  It also decreased by 1% after 2000 even though the amount of agro-food export had been gradually increased. However the share of agro-food export which has railed on the back of government policy promoting agro-food exportation has appeared to slowly increase after 2008. The Ministry of Agriculture, Food and Rural Affairs aimed to achieve 'USD 10 billion agro-food exportation in 2012' from 2008 and conducted support policies such as agro-food export-base promotion project, exportation growth power expansion project, government funding to save the logistics costs, foreign marketing project and the Korean food (Hansik) globalization project. Those supportive polices and government concerns have been commended contributing in part to an increase in agro-food export a part of agro-food over the past five years.
Third, all kinds of agro-food exports are increasing but the processed food exportation has greatly increased compared to sea food and fresh agricultural products. Accordingly, the share of processed food exportation out of total agro-food exportation has increased from 32% in 1995 to 57% in 2012, whereas during the same period, the share of sea food and fresh agricultural products has decreased from 19.8% to 5.4% respectively.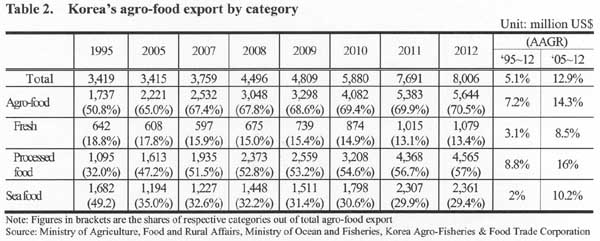 Fourth, looking at each item's export value, intensive margin has been increased and extensive margin has been extended. The largest export item is mixed delicatessen with USD 71 million of export value in 2012. Until 2000, there was no item recorded showing over USD 10 million export value. However in 2005, tobacco, instant noodles, Soju (Korean alcohol), bakery and coffee were reported to have reached over USD 10 million in export value and mixed delicatessen, sugarcane, biscuit, ginseng, Kimchi, grain fermented alcohol and other forestry products were added on the list in 2012. This trend of extensive margin amid the items which most recently showed export growth rate (compared to 2008) are the following: rape oil; almond; duck meat; other poultry meat and spaghetti et al. In addition export values of fruit sugar, peanut, ginkgo nut and sesame have increased more than 40 times. Main items are under the category of processed agro-food but ginseng, Kimchi, paprika, flower, and citron tea (Yujacha) show recent rapid increase in exports.
Fifth, overall export market has been gradually diversified. In 2000, countries in which Korea exported agro-food with earnings of over USD 100 million include Japan, Hong-Kong, China and U.S.A.  In 2012, the number of countries that have imported agro-food from Korea with earnings of more than USD 100 million came from 14 countries including Russia, Arab Emirates, Taiwan, Vietnam, Thailand, Philippines, Iraq, Singapore, Australia and New Zealand.  Destinations of Korean agro-food exports have now increased to 194 countries, 14 of which have become the destinations of more than USD 100 million Korean diversified exports with earnings from agro-food. Also, the dependence on the Japanese market in Korean agro-food exports has declined from 61% in 1995 to 29.8% in 2012. Meanwhile the share of Korean agro-food exports to China, U.S.A and Thailand has increased from 4.7% to 16%, from 5.5% to 8.3% and from 3.3% to 3.9% respectively during the same period.  In addition U.S.A was traditionally the second largest Korean agro-food importing country, but since 2007, its exportation value to China has exceeded the U.S. China has now become an important agro-food export market for Korea. East Asian countries such as Malaysia, Indonesia and other countries like Netherlands and Canada are emerging as the new export market for Korean agro-food.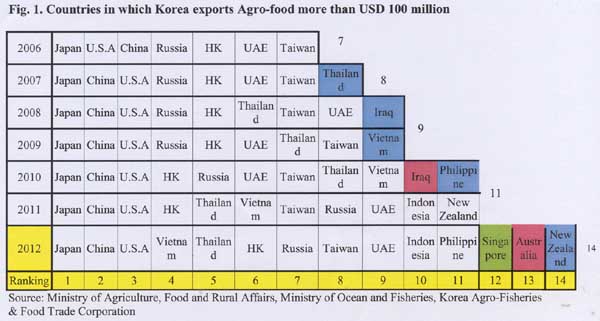 Sixth, the result of measuring countries' contribution rate to Korean agro-food exports (except for fishery products) growth during the period from 2008 to 2012 explains why Japan ranks first and China ranks second with the following corresponding level of contribution: 27.3% and 19.6% respectively as shown in Table 4. Also Vietnam's contribution level is 10.3%, while Hong Kong is 4.7% and Arab Emirates and USA showed a contribution level of 4.2%. In terms of export growth rate agro-food exports to Cambodia has increased 6.4 folds from USD 662 million in 2008 to 4,888 million in 2012. This is the highest growth rate among the top 20 exporting target countries. Vietnam and Singapore followed Cambodia with 2.6 folds and 1.3 folds respectively. In addition Iran, India and Malaysia showed double increase rate.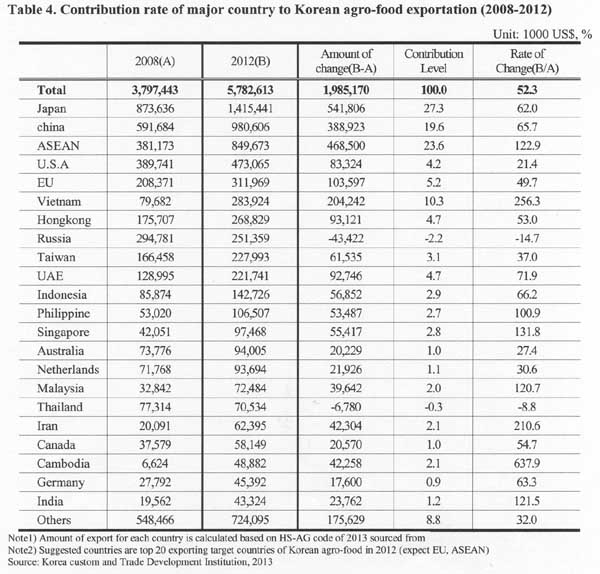 Policy for Agro-food Export Promotion in Korea
Overview
Korea's agro-food export promotion policies are developed by the Ministry of Agriculture, Food and Rural Affairs and are executed directly or indirectly through operating units such as Korean Agro-Fishery & Food Trade Corporation (aT), local government and government subsidiaries to support companies and farms.
Korea's agro-food export promotion policies have three big areas of developing foreign market, agro-food sales promotion and trade finance support. Overseas market penetration programs are mainly being implemented through the Korean Agro-Fishery & Food Trade Corporation (aT). aT was established in 1986 as a semi-governmental agency in order that price stabilization and export expansion could be accomplished by efficient distribution of agricultural products. Having centered on aT, activities to urge agro-food exports have already been done. This includes, participation in foreign food expositions, dispatches of market exploration teams and packaging designs for development projects. Especially, aT is operating Overseas Agro-Trade Center in major export target countries such as Japan and U.S.A and doing collection of overseas information, sales promotion and publicity.
In addition, aT supports the exporting companies participation in food expositions of major export target countries and designs of pamphlets (leaflets) to introduce Korean agricultural products. Recently, the government has encouraged the use of national brand 'Whimori', which is a single national brand of Korean agricultural product, mainly for Korean vegetables and flowers to show that Korean government endorsed the safety and high quality of exported products. Since 2008, the Korean government has set the globalization strategy for Korean cuisine to spread its culinary culture worldwide through database construction on overseas Korean restaurants and other various promotions, in order to expand the trade of Korean agricultural products. Also there are many supportive programs to provide stimulus to exportation at the local government level such as training & consultation, creation of export-complex & management, development of overseas market & marketing, quality guarantee and logistic cost subsidy. Local government practices diverse programs from providing training courses to logistic cost subsidy within its own available local authority budget. After adopting direct popular local election, local governors many of whose constituents are agriculturists make great efforts to increase the farm household income by boosting exportation.
Additionally, Korean government is constructing export-complexes, which in particular, focused on export-oriented production of vegetables, flowers, fruits and other processed forms, for the continued supply of high quality agro-food products for export. The government plans to expand the number of agricultural export-complexes from 148 in 2006 to 180 in 2010 and up to 200 until 2013. Korea has set the goal to increase agro-food exports from USD 5.9 billion in 2010, to 10 billion in 2012 and to 20 billion until 2021 by way of various policies which enables to promote agro-food exports.
Looking at the government budget to develop agro-food exports, its allocation has been continuously increased especially since 2008 in which the government has set agro-food export expansion as one of its major policy issues and has declared actual support. The budget was around USD 107 million in 1995 but it has increased to around USD 400 million 2008.  
The export policy funding program provides direct loans with low interest to export companies. This is the biggest part of Korea's total export support program.  However, the government has now been trying to slowly reduce the proportion of loan lending. On the other hand, the government gives more importance to overseas market development projects and agro-food sales promotion program because the goal of export expansion is regarded as an accomplishment of product competitiveness enhancement rather than by direct financial support.

Major Export Support Program in Korea
As mentioned earlier, the export support policy in Korea can be divided into three parts: 1) Overseas market development. 2) Agro-food sales promotion; and 3) Export loans. The first two are assistance programs and the last one is loan.
First, programs to assist in the development of overseas market are ultimately aimed at increasing farm household income and agro-food industry development by improving international competitiveness of company through constructing information, logistical network base and commercialization, brand fostering and intention to convert accelerated trade liberalization such as FTAs into an opportunity for export expansion. The budget for this program increased from USD 8 million in 2000 to USD 31 million in 2012 and is still currently increasing.
Second, agro-food sales promotion programs support logistic costs and establish the sufficient infrastructure to constantly expand agro-food export so as to increase the farm household income. The budget for this program was USD 19 million in 2000 and rose to USD 41 million in 2012 and is also currently increasing.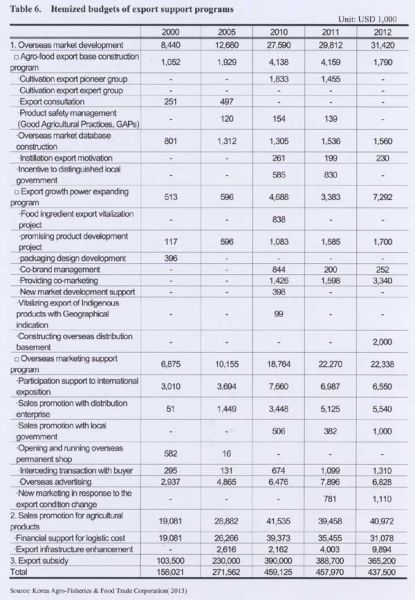 Third, offers for export loans are aimed at cultivating specialized export system equipped with expanded production scale through the support of food enterprise and a middle-small business in demand of export capital. The export loan offer is divided into two parts: 'export item production complex support' by National Agricultural Cooperative Federation and 'agro-food export company support' by aT. The scale of export capital support program was USD 365 million in 2012. 'Export item production complex support' program was USD 41 million, which is equivalent to 11.3% of total exports. The 'agro-food export company support' program was 88.7% equivalent to USD 324 million. Agro-food export company support programs provide policy fund to assist finance operational difficulties by mainly offering loans. The loan is lent to qualified enterprises to support business operation at low-interest (3%~4%) for 1 year term but, somehow it has become like a long-term loan because the supported enterprises are usually the same every year2). The response to this program is highly positive because this can partly ease the financial difficulties of companies.
On behalf of the central government, aT execute export support programs and aT reclassified overseas market development and agricultural product sales promotion as organization of production, safe guard, market development, distribution support and export of finance insurance.
The organization of production category contains horticultural production complex support, promising product development, cultivation trade expert, cultivation export pioneer group, vitalizing export council and so on. The safe guard category contains support GAP certification, residual chemical inspection fee support, Japanese vegetable ID management, safety management of Taiwan apple, Russian export company management and so on. The market development category includes overseas promotion and marketing support, sales promotion with distribution enterprise abroad, international exposition participation support, interceding transaction, co-brand (such as 'whimori') management and so on. The subsections of distribution support are direct logistic cost fund, overseas distribution center support, consultation for agricultural product distribution efficiency and so on. Lastly, the export finance insurance section includes exchange risk insurance of Korea Trade Insurance Corporation and agricultural export insurance, good agro-food purchase support etc.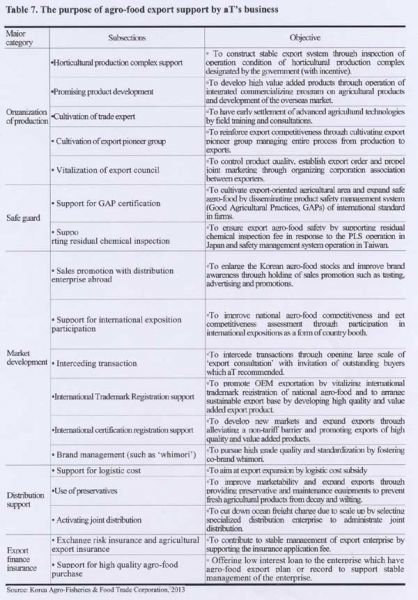 In addition, the Korean government has developed brand name 'whimori' only for agricultural products to improve its competitiveness in the international market. Furthermore, the government has applied the GAP system on exported agricultural products to arouse consumer's preferences. It also tries to achieve equal recognition of GAP with Euro-GAP generally used in Europe3).
References
Park, K. W (2013), Recent Trend of Agricultural Export and Assistant program for Agricultural Export, Korea Rural Economic Institute
Moon, H.P(2013), A Strategy for Promoting the Korean Agro-Food Export, Korea Rural Economic Institute
Eor, M.K, et. a(2011), A Plan for Expanding agricultural export markets. Korea Rural Economic Institute
Im, J.B and An, D.W(2010), A Policy Direction for Promoting the Korean Agro-Food Export" Korean Journal of Food Marketing, Vol 27. Number 4, PP: 107-135.
Korea Agro-Fisheries Trade Corporation  http://www.kati.net
Korea International Trade Association  http://www.kita.net
Korea Customs and Trade Development Institute  http://www.kctdi.or.kr
Ministry of Agriculture, Food and Rural Affairs  http://www.mafra.go.kr
Ministry of Oceans and Fisheries  http://www.mof.go.kr
Korea Agro-Fisheries Trade Corporation  http://www.at.or.kr
---
2) Detailed information:
- Loan period : 1 year
- Annual loan interest: Agriculturist (including productr association) 3%/ Non-agriculturist (regular enterprise etc.) 4%
    * According to the result of comprehensive evaluation, interest rate is discounted 1.0% to the best enterprise and 0.5% to the second enterprise.
  - Amount of loan: Less than 90% of total cost (self investment should be above 10%)
  - Use: Purchase ingredient and subsidiary materials, operational use such as storage and manufactur
3) In case of Europe, GAP system has been long since its settlement. So most of distributors deal with GAP product and sell to consumers. Thus, if the equality recognition is achieved exported GAP product can get high preference from local buyers in Europe.
Date submitted: August 30, 2014
Reviewed, edited and uploaded: September 5, 2014