Hwang-Jaw Lee
Board Director, Taiwan Flowers Development Association
While the improving economy and information technology, people are increasingly aware of food security of agricultural products. Therefore, organic agricultural products have now become familiar and popular. For good health, consumers require safe food, preferably organic agricultural products.
Organic agriculture is a friendly production system that emphasizes production, life, and ecosystems. Except supplying safe and good agricultural products, organic agriculture sustains ecological processes, biodiversity and nutrients, energy and water cycles adapted to local conditions.  It has become the main stream in the 21st century and is known worldwide.
The organic agricultural area in Taiwan has been steadily expanding due to consumer awareness, health concern and environmental issues. Till May 2012, COA has approved 13 certified bodies, including several cropping certified bodies and one livestock certified body. The total area of organically certified cropping in Taiwan is  5,259 ha and the number of certified organic farms is 2,467, which include rice (1,630 ha), vegetables (1793 ha), fruits (655 ha), tea (324 ha), and others (857 ha). In addition, there are currently 217 certified organic agricultural processing and distribution firms in Taiwan.
In order to develop organic farming, the Council of Agriculture (COA) has established necessary organic regulations and laws in 2007. These regulations and laws are the basic principles for developing organic farming.  COA is the Accreditation body and Taiwan Accreditation Foundation (TAF) has been authorized as the only compliance assessment organization for Accreditation body by COA. TAF manages all organic certification bodies, including production, processing, packaging, and distribution certification, then approved by COA.  For strengthening consumers' confidence and protecting consumers' rights, COA establishes examination plans for quality and labeling of organic products every year.
While buying organic agricultural products, it is important to choose organic agricultural products, which are labeled "CAS Organic". Furthermore, the best way to maintain our health, protect our environment and love our earth is to support local agricultural products.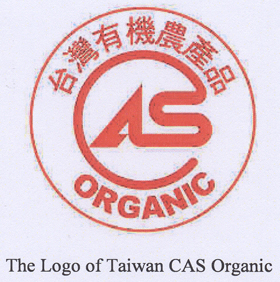 (Data source: Council of Agriculture)
Date submitted: November 27, 2013
Reviewed, edited and uploaded: November 27, 2013