Dr. Jeongbin Im
Professor
Department of Agricultural Economics and Rural Development
College of Agricultural and Life Science
Seoul National University
Seoul, Korea
E-mail: jeongbin@snu.ac.kr
With the inauguration of the new government, the Ministry of Agriculture, Food and Rural Affairs (MAFRA) announced the Mid- to Long-Term Agro-food Statistics Development Plan in July 23, 2013. The main goal of this plan is to establish a scientific agricultural administration system that focuses on data closely connected to the field in the Government 3.0 Era. It is eventually for enhancing policy analysis capability, strengthening policy ties, increasing public participation, and establishing basic infrastructure for agro-food statistics.
As the connection and closeness among various agricultural policies have been increasing, support such as crop hazard insurance and the field crop direct payment system, and statistical information support must come first for the efficient policy planning, execution, and evaluation of the pertaining policy. On the other hand, field investigations are made more difficult due to privacy protection and preventive measures against disease, and various demands pursuant to environmental change are increasing due to the merge of space information and statistics and the implementation of Government 3.0 (big data, an open-door policy toward the public, and increased participation by the public).             
Therefore, it is required for government to make a development plan on future-oriented agro-food statistics to ease difficulties for an agricultural administration focusing on data and to effectively respond to the new environmental changes. This development plan was prepared by the Public Consensus Agricultural Administration Committee following nine meetings in which all levels of society participated, including farmers, consumers, and academicians, and also by collecting the opinions of other government departments. The "mid- to long-term development plan of agro-food statistics" is composed of 18 policy tasks in five sectors, and the main contents are as follows.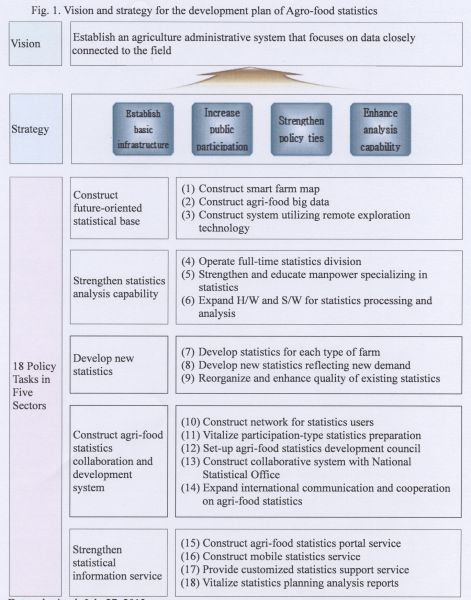 Date submitted: July 27, 2013
Reviewed, edited and uploaded: August 2, 2013