ABSTRACT
Vietnam, the first and the sole country, has gained permission to export dragon fruits to Australia since September 2017. To be a qualified exporting country, Vietnam has to meet a range of import conditions, one of which is the ability to trace dragon fruits back to production areas. To support such traceability system, the Australian Embassy, the Asia Foundation and the Institute of Policy and Strategy for Agriculture and Rural Development in Vietnam joined hands to establish a block-chain based identity and proof-of-provenance platform that allows to trace a single dragon fruit back to single farmer, as well as provide various information attaching to the journey of dragon fruits from farms in Vietnam to importers in Australia. This system was piloted in two dragon fruit exporting companies, Hoang Phat Fruit Co., Ltd and Yasaka Fruit Co., Ltd. This paper introduces dragon fruit value chains of the two companies, process to set up and operation of the traceability system and arising challenges. We find that the willingness to adopt new technology of exporting companies, rather than small farmers, is absolutely important to the success of the system.
Keywords: Dragon fruit, value chain, traceability, blockchain
INTRODUCTION
In 2017, The Asia Foundation, with the support of The Australian Embassy,  joined hands with the Institute of Policy and Strategy for Agriculture and Rural Development (as consultant team) to launch a project to help local agricultural producers in Vietnam's dragon fruit sector through establishing a blockchain-based identity and proof-of-provenance platform. The project's objectives are to enhance Vietnam's brand in relation to dragon fruit, empower micro, small, and medium sized enterprises (MSMEs), as well as provide consumers with valuable information from point of origin to point of consumption including information related to food safety.
The blockchain based technology which was developed under this project has the ability to create trust, transparency and empower digital compliance and can be easily replicated to other agro-products. By digitally tracking the provenance and movement of products throughout the entire value chain, stakeholders will have a full access to a variety of information. With blockchain technology, this information flow can be widely shared to enhance decisions at all levels of the supply chain including individual consumers.
Up to September 2017, there are five companies in Vietnam that have been granted permission to export dragon fruits to Australia. Among these, Yasaka Fruit Co., Ltd (locating in Binh Duong province) and Hoang Phat Fruit Co., Ltd (locating in Long An province) were selected to involve in the project.  
DRAGON FRUIT VALUE CHAINS
In general, the value chains of two companies are quite short and simple. Hoang Phat buys dragon fruit directly from farms, then processes, packages and exports to Australia, Korea, Japan, Taiwan. Meanwhile, Yasaka does not buy dragon fruits directly from farms but through intermediate suppliers residing in production areas (Long An province). The quality management, therefore, is different between two companies.
Characteristics of companies
Yasaka is a 100% foreign direct investment company of Japan, formed in 2008. Its representative office is situated in Ho Chi Minh city, the factory is placed in Binh Duong. The main operation of Yasaka is process and export agricultural products including mango, coconut and dragon fruit. Yasaka exports dragon fruits directly to Australia and do outwork for other companies. For direct export, Yasaka manages all steps from buying to exporting. For outwork, Yasaka only provides VHT and packaging services.
The export markets of Yasaka are Japan (85% market share), Korea (7%), Taiwan (5%) and Australia (3%). Total export volume to all markets is about 80-85 tons per month, including both red flesh and white flesh dragon fruit. For the Australia market, in 2017, Yasaka exported 49 tons of dragon fruits, of which 18 tons was exported directly.
Hoang Phat was established in 2013. Its representative office and factory are located in Long An province. The company focuses on exporting mango and dragon fruits and has two different systems, one is responsible for purchasing, pre- processing and one is responsible for doing VHT treatment and packaging. The export products are directly purchased from farms within the approved production area (which is issued a production area code, called PUC) and then passed through initial processing, vapor heat treatment (VHT) and packaging before exporting.
Hoang Phat has two main export markets: i) Markets for VHT products: Korea (25%), Japan (10%), Taiwan (10%), and Australia (5%); ii) Markets for non-VHT products (50%), including China, Canada...
Characteristics of suppliers
Yasaka does not buy dragon fruit directly from farms but from six suppliers in Long An, Tien Giang and Binh Thuan provinces. From the six suppliers, they choose two suppliers to interview: Van Thanh Cooperative and Viet Fruity Taste Co., Ltd situating in Chau Thanh district, Long An province.
Function of suppliers
The legal status of suppliers of Yasaka are cooperative or company. Their function is to buy dragon fruits from farms and sell them to export companies one of which is Yasaka. Besides, suppliers also do outwork for other exporters.
Yasaka signs a one-year contract with suppliers, which can be renewed every year. According to the contract, Yasaka has to send suppliers a plan of buying dragon fruits every week (quantity, types of dragon fruits, price). Based on this plan, suppliers set their own plan to buy dragon fruits from the farms and supply the fruits to Yasaka. Dragon fruits sold to Yasaka must be cultivated in PUCs owned by Yasaka or suppliers.
Operational scale
Two suppliers buy dragon fruits from both inside and outside PUCs. Besides the 12 PUCs owned by Yasaka, they also own seven PUCs of which Van Thanh cooperative owns two PUCs, Viet Fruity Taste Co., Ltd owns five PUCs in Chau Thanh district, Long An province.
Two suppliers sell dragon fruits to various markets. Besides supplying to Yasaka for exporting to Australia, Japan, Korea, they also sell to other traders to export to China, the US and to sell in the domestic market. The volume sold to Yasaka accounts for 15%, to China market 80%, to the US and domestic market 5%.
Only farms within PUCs which follow technical process given by suppliers and Yasaka are qualified to sell dragon fruits to Yasaka at 3,000-5,000 VND per kg higher than those who do not follow.
Infrastructure, equipment
Two suppliers invest in factory, cold storage to do sorting, pre-processing, cleaning and preserving dragon fruits. They are also responsible for transporting dragon fruits from their premises to Yasaka.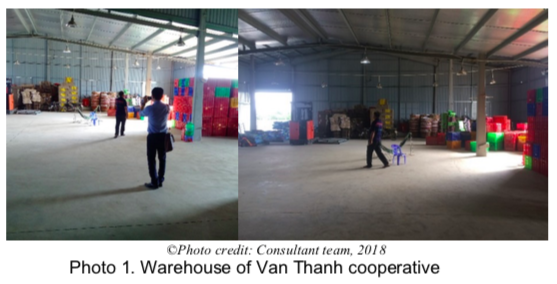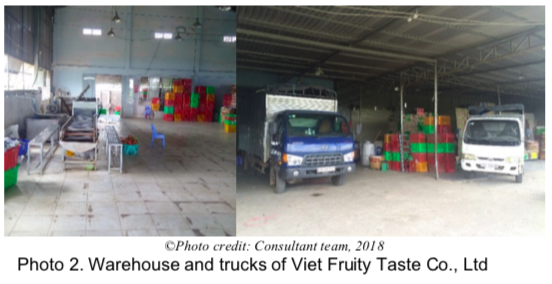 Characteristics of dragon fruit farms
Dragon fruit farms do not own PUCs and many of them do not know which PUC they belong to. The real owners of PUCs are export companies and suppliers. According to 2017 figures, Plant Quarantine Service 2 (under Plant Protection Department- Ministry of Agriculture and Rural Development) issued 29 PUCs for Binh Thuan province, 33 PUCs for Long An province and 14 PUCs for Tien Giang province. Table 1 shows an example of two PUCs owned by Yasaka in Long An.

Farming technical process of dragon fruit
There are three widely-applied farming technical processes: i) certified farming practices such as Vietgap, GlobalGAP; ii) Vietgap-alike process guided by Yasaka and suppliers. The key point of this process is that farms have to comply with regulation on chemical use; and iii) free cultivators who practice on their own experience. Dragon fruits of group 1 and 2 are qualified to export to high-end markets while those of group 3 are mostly exported to the China market.
There are two dragon fruit seasons, on season starts from April to September and off-season starts from October to March. On off-season, farms have to light up dragon fruit fields in the evening to stimulate flowering. Off-season usually has little disease and higher productivity. With current technical practice, farms can control flowering and fruition all-year around.
Two popular varieties of dragon fruit are white flesh and red flesh. Purple dragon fruit is newly cultivated at small scale in the region. White flesh dragon fruit has high productivity, long preservation but low price. Red flesh dragon fruit has lower productivity than white one, easy ripeness but higher price. Purple dragon fruit has high productivity, long preservation and high price.
As for Hoang Phat company, farms supplying dragon fruits for the Australian market are located in the company's approved seven PUCs gathering 40 farms with a production zone of 81.18 ha across three communes of Chau Thanh district, Long An province. Characteristics of contracted farms are summarized in Table 2.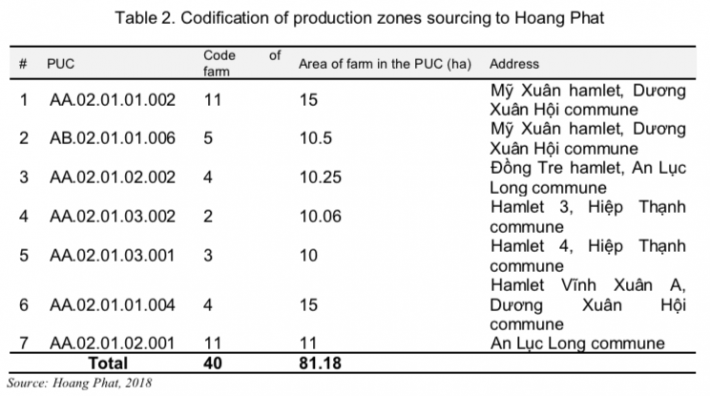 Farms grow dragon fruits based on their accumulated experiences. Some farms have participated in the trainings organized by either district government or input suppliers. Hoang Phat does not fix a standard code of practice, but specifies some requirements and norms for the products:
Fruit weighing 300 gram or more; evenly colored (rosy red) skin, bracts with green tips

Pesticide spray to be ended 7-10 days prior to the harvest

The company is notified by farms 7 days prior to the harvest date
Farms and the company discuss and come to agreement on harvest time and purchasing plan. For instance, during the off-season, farms have to report to the company the cessation of lighting application. The planned harvest time must be communicated 7-10 days prior to the harvest so that the company sends technical staffs to check and set the harvest date for each farm.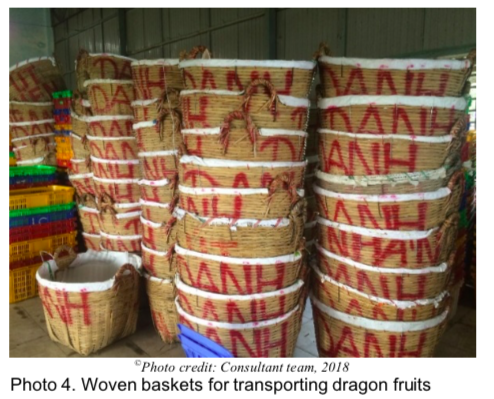 Harvesting dragon fruit is done in three ways: i) Farms do harvest and sort fruits on their own and then transport to the packing house under the supervision of the company; ii) Farms harvest fruits under supervision of the company and hire collectors to sort fruits and transport fruits to the packing house; and iii) farms harvest fruits and the workers come to sort and transport fruit to the packing house. Dragon fruits are transported in the woven baskets which are labelled and tagged with names of the farms and collectors in order to facilitate the sorting and return the rejected fruits.
SETTING UP THE TRACEABILITY SYSTEM
In fact, the platform for traceability was already built by Ethitrade in 2017. The traceability system designed for this project is an adaptive version of the platform for dragon fruit. The process to customize the platform for dragon fruit goes through following steps:
Step 1: Study dragon fruit import conditions
Understanding Australian import conditions for dragon fruits is important for system design. This step aims to identify all conditions one exporter has to meet and information necessary to be presented in the traceability system in accordance with those conditions.
The Australian government sets a number of conditions for dragon fruit imported to the country. One of the most important ones is ability to trace the fruits back to the production areas. The traceability information should be presented on the carton including origin statement, treatment facility code (TFC), treatment identification number (TIN) and Production area code (PUC) (see Table 3).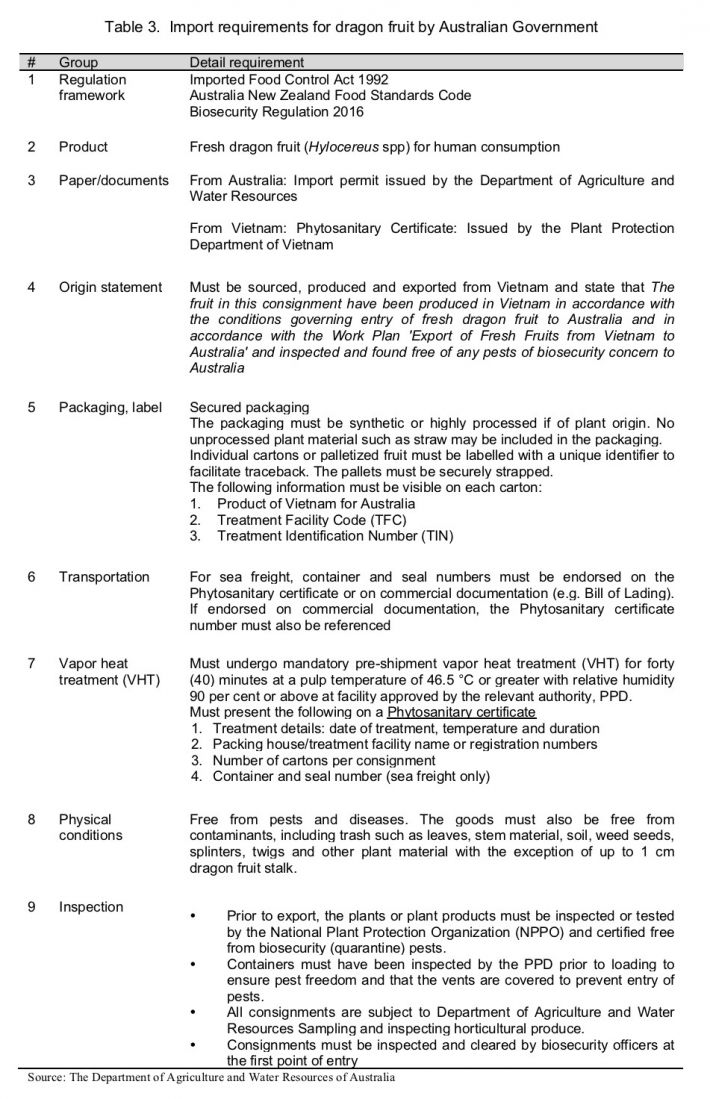 Step 2: Map the value chains of the two companies
Mapping value chains of the two companies aims to identify all stakeholders and their activities, quality and origin management and available information of each stakeholder along the value chain. To get the above information, the team organized field visits to every selected stakeholder including one company, two suppliers and 20 farms in Long An province and one company in Binh Duong province. The value chain analysis is presented in the previous section.
Step 3: Build up the traceability system
Based on value chain analysis, the consultant team proposes a list of information that is available at each stakeholder of the value chains and information that needs uploading to the system (see Table 4). The information selected to upload on the system aims to: i) provide information about all stakeholders for Australian importers and consumers; ii) cross check between stakeholders in the value chains. Each group of stakeholders is responsible for uploading given information generated during their activities.
There are two types of information: i) one is fixed information which is used to describe stakeholders such as name, address, contact, brief introduction about stakeholder, photos, certificates (VietGAP, GlobalGAP, HACCP, ISO…); ii) one is variable information which is generated whenever there is a new transaction in the system. Fixed information can be uploaded on the system one time by the consultant team while variable information is done by each stakeholder who has a transaction with export companies or suppliers.
By using available blockchain based platform and information provided by the consultant team, Ethitrade customizes the platform to build up a traceability system specifically for dragon fruits. This process requires participation and discussion of all partners: consultant team, the Asia Foundation and Ethitrade. Several versions of system are published for testing within the team before publicly tested by the stakeholders.   
Step 4: Coach stakeholders to use the traceability system
After having mock-up version, the consultant team starts training all stakeholders in the value chains to use the system. To adapt to the new traceability system, stakeholders are required to change their practices in transporting, processing and packaging. The most important change is to separate dragon fruits farm by farm in every step starting from harvesting to packaging. Dragon fruits of different farms are marked with different color tags, or contained in different color baskets which finally allow to trace every single fruit back to single farm. Without separating fruit from beginning, the traceability system is meaningless.
Step 5: Carry out practical transactions and finalize the traceability system
All stakeholders are guided to test the system by carrying out actual transactions. One transaction begins whenever a farm sells dragon fruits to suppliers or companies and ends when export companies load dragon fruits on containers to send to sea ports or airports. Issues happening during the testing process are reported to the consultant team, and then Ethitrade for editing and finalizing the system.
STRUCTURE AND OPERATION OF THE TRACEABILITY SYSTEM
Structure of the system
The traceability system composes of four modules:
Module 1-User: This module is used to create and manage all users of the system. One user is provided an account created by admin. This account is used to log in the system.

Module 2-Supply chain actors: This module is used to input all fixed information about stakeholders (users) such as name, address, contact, brief introduction etc... The information is inputted by admin and can be edited whenever there is change.

Module 3-Products: The module is to create description about products as well as package of products. In the system, this include description of white flesh and red flesh dragon fruits. Package information comprises of carton weight, carton types and carton sizes of dragon fruit. Different companies could have different packages. The information about products and package can be added by export companies.

Module 4-Trade transactions: This module is created to record all occurring trade transactions. The variable information of the traceability system is inputted by every stakeholder in this module. Whenever one transaction is created by a farm, a QR code is then generated in the system to attach with dragon fruits of that farm. This QR code will go along the value chain through every downstream stakeholder until finishing a transaction
Operation of the system
A transaction starts when a farm sells its dragon fruits to other stakeholders. The farm uses provided account to log in the system before uploading information of the transaction composing of farm's name, product (white, red flesh), date released from farm, quantity sold, sold to whom and their names. After uploading all required information, the farm saves and quits transaction. At that time, a new transaction is created in the system. 
In the next stages, the following stakeholders who buy dragon fruits from previous ones have to log in and input all information of their part in the system. The system is designed to allow cross checking information uploaded by different stakeholders of the value chains. For example, the quantity suppliers sell to export company must be lower than or equal to the quantity they buy from farm, otherwise the transaction cannot be continued. Similarly, the export quantity cannot be bigger than purchasing quantity because there is always a given proportion of dragon fruit eliminated during processing.
After exporters upload all information, one transaction ends. The exporters use QR code generated from this transaction to print out and stick on single fruit. This QR code contains all information inputted by all stakeholders in the value chains. 
CHALLENGES IN BUILDING AND OPERATING THE SYSTEM
Challenges in building the system
Generally, the process of establishing the system raises some challenges:
No complete and entire control over the origin of dragon fruit: Since Yasaka does not buy fruits directly from farms, but from suppliers, it is difficult for them to ensure that dragon fruits originate from authorized PUCs under their management or their suppliers. It is said that the company cannot control whether the suppliers buy fruit from within PUCs or outside the PUCs. Meanwhile, Hoang Phat performs relatively well the control over the origin of the dragon fruit—thanks  to its direct purchase from farms.

Farm management practices: The suppliers classify farms into two groups: 'clean' dragon fruit producers and 'non-clean' dragon fruit producers. "Clean" fruits mean that production of those fruits only use authorized chemicals (fertilizers, pesticides, chemicals, growth stimulants) provided by the company/suppliers. In fact, companies or suppliers have no efficient tool to monitor the chemicals use at farm level (in or out of the authorized list) besides the pre-harvest fruit test (done by Van Thanh Cooperative) or pre-harvest supervision of orchards (done by Hoang Phat).

No clear and fine separation of dragon fruits originated from different PUCs during the transportation and processing stages: this is the practice performed by the exporters. Technically, export companies can separate dragon fruit by place of origin as well as request their suppliers to comply with this requirement. In principle, companies buy dragon fruits from farms of a specific PUC on one day to facilitate its origin control. Yet, in case of the purchase from two farms or more than two PUCs, the compliance with the separated processing/transportation is not strictly respected.

Traceability level in two supply chains: Dragon fruits exported to the Australian market, as per current regulations and rules, are only tracked back to the PUC, not to the farm level. Yasaka conducts the traceability to farms for dragon fruits exported to the Japanese market. Hoang Phat has not put in place traceability to farms. Accordingly, this element needs to be considered as soon as a common traceability system is put in frame.

Different management systems between two companies: Two companies differentiate from each other in information management system, book keeping and codification system (TIN, VHT certificate, export lot number). This point should be discussed with the companies and software development team to either reach a common solution or accept the differences in a common coding system for all.
Challenges in operating the system
During operation of the system, there are some challenges arising:
Lack of equipment and access to internet: this is one of the biggest barriers to application of the system in practice. Farmers lack the necessary equipment such as smartphones or computers to get access to the system. The other concern is that farmers usually lack knowledge and skills to use such modern devices because they are old or hesitant to learn new things.

Lack of motivation: The stakeholders sometimes do not have strong motivation to apply new technology in their activities because they have to change their daily practices as well as equip new devices. In this project, the Australian consumers actually do not require Vietnamese exporters to set up such traceability system. The stakeholders in the value chains also do not receive any rewards for doing so. These hinder companies and stakeholders to apply the system in the beginning. However, in the long term, with clear origin supported by blockchain based traceability system, consumers will gradually lay strong belief on the exporters which possibly result in higher demand.

The system is not fully blockchain-based: Although initially being designed based on blockchain technology, the system is not truly blockchain-based. In fact, information can still be edited after uploading on the system. This is due to the fact that human mistakes happen during inputting information and need to be fixed. However, the accuracy of the information can be assured by cross checking between stakeholders.   
CONCLUSION
Establishing food traceability system is a compulsory condition for exporting required by many countries. This project is an example of applying blockchain-based technology in building a traceability system for dragon fruits exporting to Australia. Despite the many obstacles and challenges, the traceability system proves that information technology can be applied successfully even by small farmers as long as they are done in the proper manner. It is noteworthy that companies should be put in the center of support because they know about market demand and have the power to require supplier, and farms to follow the system. However, this case also reveals that application of blockchain technology is not really suitable to the area of food traceability because information uploaded by stakeholders still needs correcting and recording in the system. This suggests that operation of a food traceability system should follow some principles such as transparency, cross-checked ability and trust rather than merely follow a given technology like blockchain.   
REFERENCES
Chien D.D., Dat N.S., Khanh P.D., Viet L.D. 2017. Field survey report under project: Empowering local agricultural producers with a global trading identity.
Vietnam Trade Office in Australia. 2019. Import conditions for dragon fruit to Australia market. Accessed in 1 August 2019 at  http://vietnamtradeoffice.net/dieu-kien-nhap-khau-thanh-long-vao-uc/
Date submitted: September 10, 2019
Reviewed, edited and uploaded: October 18, 2019