OVERVIEW OF DRAGON FRUIT TREES
The situation of dragon fruit production
Dragon fruit is a fruit tree belonging to the cactus family, group of dry tropical plants, originating in the desert region of Mexico and Columbia. Dragon fruit was brought to Vietnam by the French in the 19th century, scattered in the garden, until the 1980s was planted commercially. Most of the dragon fruits grown in Vietnam are Hylocereus undatus, with red or pink skin/ white-fleshed remaining as red-fleshed. The red- skin fruit with white fleshed accounts for 95%, the remaining 5% is red - skin fruit with red-fleshed.
Dragon fruit season is from April to October, the most from May to August. Many varieties of dragon fruits are bred to increase productivity, quality and suit each region's land and climate. At the Southern Horticultural Research Institute (SOFRI), there are currently 20 varieties of dragon fruit preserved from domestic sources and imported from abroad and 40 hybrid dragon fruit varieties, serving the research, gene conservation, and breeding selection.
Currently, dragon fruit has been widely planted in provinces and cities nationwide. Area of dragon fruit growing in the whole country is more than 55,000 hectares. However, the largest concentrated areas are: Binh Thuan, Long An and Tien Giang (these 3 provinces have more than 48,000 ha), followed by Tay Ninh, Dong Nai, some Central Highlands provinces and Northern provinces (Source: MARD, 2/2019)
In the North, dragon fruit has just been planted in some places like Lang Son, Vinh Phuc, Hai Duong, Quang Ninh, Thanh Hoa and Hanoi.
Figure 1. Major dragon fruit growing areas of Vietnam (red)
Vietnam is the country with the largest area and production of dragon fruit in Asia and is also the leading dragon fruit exporter in the world. The area of dragon fruit growing in Vietnam increased rapidly from 5,512 ha in 2000 to 55,419 ha of dragon fruit growing area with a total output of about 1,074,242 tons (of which new plantation area accounted for 6,297 ha) in 2018.
Dragon fruit is currently grown in almost all provinces/cities, but strongly developed into large-scale specialized cultivation areas concentrated in provinces such as Binh Thuan, Tien Giang, and Long An. The area of dragon fruits in these three provinces accounts for 87.44% of the total area and 94.65% of the whole country, the remaining dragon fruit area is distributed in some Southern provinces such as Vinh Long, Tra Vinh and Tay. Ninh, Ba Ria - Vung Tau and some Northern provinces.
Binh Thuan has the largest area and production of dragon fruits, accounting for 52.82% of the area and 55.11% of the national production, followed by Long An (accounting for 20.35% of the area and 24.51% of the production) and third place is Tien Giang (accounting for 14.28% of area and 15.04% of production).
Dragon fruit trees recently planted have high productivity, bringing income for people. In particular, in the current technical progress, dragon fruit left fruits all year round (the price is usually higher from 3,000 VND to 5,000 VND/kg compared to the government) which is very convenient for export. Therefore, dragon fruit plants really become economically efficient and have a high competitive advantage compared to some other crops.
Situation of dragon fruit consumption
Dragon fruit products circulated in the market are mainly in the form of fresh fruits, in which the domestic market accounts for 15-20% of the output; 80-85% of the remaining output is exported but the main market is China.
Domestic consumption
Dragon fruit has been present in most of the domestic market, concentrating in the North, Ho Chi Minh City and Central coastal provinces. Activities of buying and selling dragon fruit by enterprises and purchasing facilities, dragon fruits packing are carried out through distribution channels, wholesale markets in provinces and cities such as Southern wholesale market business center - Hanoi, Long Bien wholesale market - Hanoi, a wholesale market specializing in fruit and vegetable distribution in Ho Chi Minh City. Thanh Long is also present in all domestic supermarkets such as Hanoi Trading Corporation, Hanoi One-member Limited Company, Saigon Trade Corporation, CoopMart, Lotte Mart, Big C, CitiMart ... However, because there are many kinds of fruits on the Vietnamese market, Dragon fruit must face great competition in the domestic consumption market. It is estimated that the amount of dragon fruit consumed in the domestic market is only about 15-20% of the total output.
Exporting market
Dragon fruits are exported to about 40 different countries and territories. In addition to traditional markets for dragon fruit exports such as China, Thailand, Indonesia, Malaysia, Netherlands and Taiwan, dragon fruits are also exported to fastidious markets like the US, Australia, New Zealand, Chile, EU, Japan, Korea, Singapore and India.
According to statistics, in 2017, Vietnam exported more than 1.3 million tons of dragon fruits to the Chinese market. In the first nine months of 2018, Vietnam exported 1.32 million tons of fresh dragon fruit to China. In which, through Lao Cai border gate 692,000 tons, Lang Son 335,000 tons, Ho Chi Minh City 280,000 tons and Mong Cai (Quang Ninh) 20,000 tons.
DRAGON FRUIT COMMERCIAL CHARACTERISTICS
Healthy eating trend:  From fast to fresh
Internationally, there is a demand shift for consuming fresh fruit instead of Fast food. Turns out that International population are eating their fruits and vegetables as well as other fresh foods and beverages, reports The NPD Group, a leading global information company. The percent of all in-home eating occasions that include fresh foods, like fruit, vegetables, and dairy items, is almost back to levels seen 30 years ago, according to NPD food consumption research.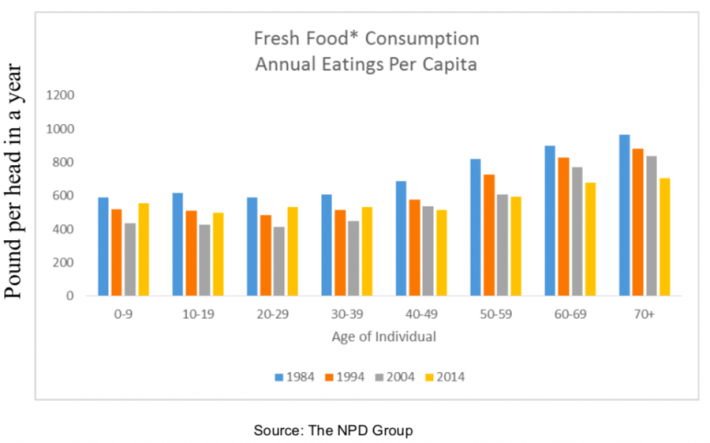 Younger adults, with ages from 18 to 34, including the Millennial generation, are the main drivers of the shift to fresh foods and beverages. The element of surprise with this consumption trend is that Millennials are in a life stage when people typically consume lower quantities of fresh items in favor of more time-saving and convenient options.
Commercial sustainability
High quantity
Vietnam is the country with the largest area and production of dragon fruits in Asia and is also the leading dragon fruit exporter in the world. Area planted with dragon fruit. In Vietnam, it increased rapidly from 5,512 ha in 2000 to 55,419 ha planting dragon fruit with a total output of about 1,074,242 tons in 2018. Preliminary estimates for 2018, new planted area of ​​nearly 6,297 ha.
According to the research of GENERAL CONSULATE VIETNAMESE AT SYDNEY VIETNAMESE TRADE IN AUSTRALIA. Dragon fruit is currently grown in most provinces / cities. However, to strongly develop into large-scale specialized farming areas concentrated in provinces such as Binh Thuan, Tien Giang, and Long An. The dragon fruit area of ​​these three provinces accounts for 92% of the total area and 96% of the country's production, the area of ​​dragon fruit remaining again distributed in some southern provinces such as Vinh Long, Tra Vinh, Tay Ninh and Ba Ria- Vung Tau and some Northern provinces.
Profitability
It is undeniable about the advantage of Dragon Fruit has on Vietnamese economy. Dragon fruit is a key export product of the fruit and vegetable export industry.
According to the General Department of Customs, dragon fruit accounts for 32% of the total export value of vegetables and fruits - Vietnam. The export value of dragon fruits (~US$230 million) is nearly double the export value of the two following fruits - longan (US$121 million) and mango (US$104 million). Dragon fruit export also outperformed vegetables with export value of US$ 143.8 million and processed products with a turnover of US$ 143.6 million.
Depending on the market and the technical requirements of each market. Dragon fruit for export is priced differently in separate consumer markets. The more difficult market, the higher selling price will be applied on dragon fruit and vice versa.
Dragon Fruit retailing price at market examples:
US Dragon Fruit Retail price: US$45-55 / Package 4.5kg

Australia Dragon Fruit Retail Price: 15~17 AUD/kg= 255.000~289.000 VND/kg

China Dragon Fruit Retail Price: 25~30 China Yuan Reminbi/ kg= 82.500~99.000 VND/kg
Availability
Easy to grow
Dragon fruit is one of the easiest fruits to grow, it is from the cactus family so prefers a dry warm environment and doesn't need much care when it is settled. In addition, even though it is a desert plant, it really doesn't require excessive amounts of light for it to grow healthy.
Because of this characteristic of dragon fruit, many growing areas began to emerge throughout Vietnam from Binh Thuan to Long An, Tien Giang. Changing the living conditions of many farmers across the country.
Off-season planting techniques
In order to maintain producing throughout the year. Vietnamese farmers have developed a Lighting technique to the dragon fruit for the off-season.  Currently, dragon fruit lighting technique used at night to handle off-season flowering in short-term conditions have been widely applied by farmers to bring high profits. Depending on the season, the time for lighting the lamp like the number of nights, the number of hours per night changes accordingly so that the dragon fruit tree can flower.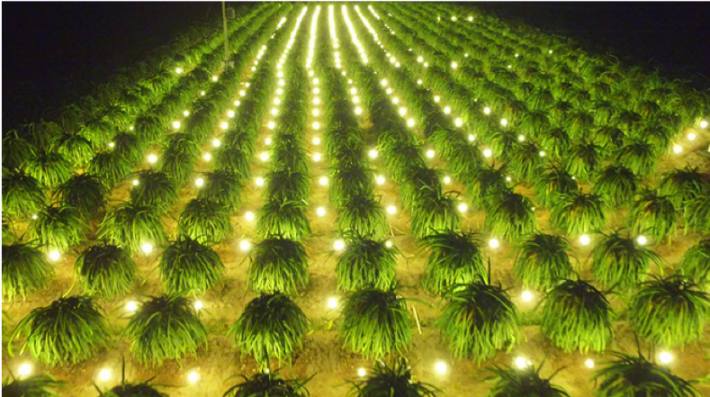 Year-round season
Thanks to the extensive cultivation areas throughout the country from Binh Thuan to the Mekong Delta, dragon fruits are harvested all- year round. This creates a great benefit in term of Commercial since it can provide exporters more time to open the market internationally.
Source for tracking Dragon Fruit harvesting season: http://www.thefruitrepublic.com/products/fruits/26-red-dragon-fruit
Super fruit
Dragon Fruit which is also called Pitahaya is in the cactus group and originates in the deserts of Mexico and Colombia. Dragon Fruit was planted in Vietnam over 100 years ago. With the characteristics cactus which prefer Dry soil. In the beginning of 1980s, Dragon Fruit was planted in Thuan Bac district
Binh Thuan province. Dragon Fruit became people's favorite as it was strongly consumed thus its production area was expanded.
Not long after that, hearing the reputation of this strange fruit. The South Western people of the river with their fertile alluvial land have studied and successfully planted dragon fruits in Tien Giang and Long An areas. Ex: Cho Gao district – Tien Giang province and in Chau Thanh district – Long An province. Surprisingly, seems to be that dragon fruit grown in the South West region is better developed than in Binh Thuan area. Since then, farms and dragon fruit gardens have started to grow and develop to neighboring Mekong river provinces
Nutritious- Packed with Vitamins
Dragons might not be real but this fruit sure is. Known for its hardy pink skin and its unique seed-speckled flesh, dragon fruit tastes like a mix between a kiwi and pear with a slight crunchiness. Dragon fruit is packed with many natural antioxidants like betalains. Betalains are actually the class of pigment (specifically red and yellow) that gives dragon fruit its captivating color. However, they've been found to contribute a lot more than just pretty color. In some studies, it appears that Betalains may reduce LDL cholesterol levels, contain anti-inflammatory properties, and stimulate the growth of new blood vessels.
Dragon fruit is low in calories but packed with essential vitamins and minerals. It also contains a substantial amount of dietary fiber.
Here's a rundown of the main nutrients in a one-cup serving (227 grams) a research conducted by USDA Branded Food Product Database: Calories: 136; Protein: 3 grams; Fat: 0 grams; Carbohydrates: 29 grams; Fiber: 7 grams; Iron: 8% of the RDI; Magnesium: 18% of the RDI; Vitamin C: 9% of the RDI; Vitamin E: 4% of the RDI.
Beyond essential nutrients, dragon fruit supplies beneficial plant compounds like polyphenols, carotenoids and betacyanins.
Aiding digestion
The human body's digestion system is home to some 100 trillion diverse microorganisms, including more than 400 species of bacteria. Many researchers believe this community of microorganisms may impact your health. Both human and animal studies have associated imbalances in your gut to conditions like asthma and heart diseases.
Given that dragon fruit contains prebiotics, it can potentially improve the balance of good bacteria in your gut. Regularly consuming prebiotics may reduce the risk of infection in your digestive tract and diarrhea. This is because prebiotics promote the growth of good bacteria, which researchers believe may out-compete the bad one.
Source: https://www.ncbi.nlm.nih.gov/pubmed/22457389
Anti-aging property
A study from US National Library of Medicine National Institutes of Health shows that eating Dragon fruit can prevent the risk of having Chronic diseases and it can act as an Anti-Aging product because Dragon Fruit is packed with Vitamin C, Betalains and Carotenoids in which acts as an Antioxidant substance. And importantly, antioxidants work best when eaten naturally in food, rather than in pill form or as a supplement. Therefore, dragon fruit is highly recommended for people with Aging problem. Source: https://www.ncbi.nlm.nih.gov/pubmed/24142131
In conclusion, Dragon Fruit is a delicious tropical Super fruit because it contains a lot of Vitamins and has proven to potentially prevent diseases and aid digestions. Most importantly, Dragon Fruit converge to all important elements in trade. Therefore, putting Dragon fruit is in the position to compete against "The King of Fruit"- Kiwi.
CHALLENGES IN EXPORTING DRAGON FRUIT
Challenges with farmers' awareness
Fragmented farming area
As mentioned above, currently Vietnam is the largest area for producing dragon fruits in Asia and is also the leading dragon fruit exporter in the world. However, the farming areas are fragmented. Not much Farming area with over 100 ha to grow this Cactus fruit. This leads to the fragmented product quality.
Consciousness of using fertilizer
Not strictly complying with regulations on pesticide use
The abuse of pesticides and growth regulators on dragon fruit is still occurring and not meeting the demand of markets for food safety. Infrastructure for intensive production of dragon fruit has not been invested properly, lack of electricity and irrigation systems, especially in drought and water shortage conditions. This has led to the decrease on the planting area of dragon fruit in Vietnam in recent years.
Not keeping record
Vietnamese farmers have long been unfamiliar with the record keeping when using pesticides. This leads to difficulties in traceability when an outbreak occurs. More importantly, it affects directly the Vietnamese agriculture industry when the International markets are tightening on pesticide residue issues which requires the growing areas to always keep records and controlling the pesticide residue.
Cold chain awareness
Cold supply chain is an important base for the agriculture sector, contributing to ensuring the quality of food and agricultural products from farm to table. However, local agriculture experts as well as local enterprises believe the cold supply chain for Vietnam's agriculture sector remains weak, the World Cold Chain Summit 2018, held recently by Carriers in Ho Chi Minh City.
Vietnamese Farmers and Exporters did not attach the importance of post-harvest preservation and cold storage for dragon fruit. This leads to many goods damage when shipped to international consumers. Worse, it reduces the product's shelf-life. Thereby creating a bad reputation for Vietnamese fruits; Loss of trust from international consumers and destroy reputation of Vietnamese export companies.
Post-harvest preservation
At present, most farmers and farm owners underestimate the post-harvest preservation. Former head of the Institute of Agricultural Science of Southern Vietnam, Mr. Bui Chi Buu, said that post-harvest losses in Vietnam were significant, but the country had little in the way of post-harvest technology or machineries. Harvesting and post-harvesting technologies in Vietnam were on the edge of industrial revolution 2.0, implying they showed modest development for Post-harvest preservation. Here are a few suggestions of How a Dragon Fruit Farm/ Exporter tackles Post-harvest prevention.
In the Field:
Harvest during the coolest part of the day. Protect the crop from direct sunlight; Do not stack the fruit over another; Harvest by Conveyor: increase the efficiency during the harvesting phase; Clean truck and use pallets or floor for air ventilation.
Pre-cooling:
Pre-cool truck before loading: Room cooling, Forced air cooling, Hydro cooling, Vacuum cooling; Control temperature inside truck box during transport and unloading time; Unload in shaded area (not under direct sunlight)
In packing area:
The temperature of packing area should be kept as near to the recommended storage temperature; Control temperature inside truck box during transport and unloading time; If produce temperature rises significantly during packing. It should be force air cooled ASAP.
On the loading dock:
Surround loading ports with insulating foam so that truck/container interior is exposed to external air; If loading from a cold corridor doc, pre-cool truck/ container to set point temperature before loading pallets; Make sure that after pre-cooling, warmer external air does not enter.
Storage at Terminal:  - Keep shipment in cool room.
Air shipment:   -  Keep shipment in cold compartment during flight
Sea shipment: -  Keep sea container be at 1 degree Celsius with air flow of 15m3/hrs all the time; Use new container (max 4 years old), check container cooling unit before loading
Cool warehouse:  - Install more air curtain for cool store; Building cool cell to packing inside; Warning bell outside of cool cell door
Retail outlay consideration: - Keep at 10 degree Celsius (50 degree Fahrenheit)
Commercial challenges
Product's output is not guaranteed
Cannot offer exclusive purchasing with farms
Currently, the scale of dragon fruit export enterprises is rather small and inexperience in the international fruit exporting market. Therefore, majority of the Vietnamese business cannot offer Exclusive Purchasing contract from Farms which leads to Waste issue.
The reliance to a market
For centuries, reliance on an export market was no longer unfamiliar to the country's agriculture. According to Ministry of Agriculture and Rural Development-MARD's report, China's market accounts for 68% in the Dragon Fruit exporting market. While more restrictive market such as Canada and Japan is only accounts for 1-2% of the entire market share.
This may be detrimental to the export of Dragon fruit because only small market changes can have a huge impact on product prices. Especially now, China is raising Dragon Fruit standard importing to its country by controlling through Production Unit Code and Packing House.
Yet to penetrate the international high-end market
Currently, if we only look at the export volume of dragon fruits to markets like the US, EU, Australia is very impressive. However, Vietnamese dragon fruits are still distributed only through small markets in these markets or some Asian markets in other countries in which only serve mostly for the Asian communities. Not being able to enter the major US distribution chains like Walmart, Costco, etc. for serving American residence.
Currently Vietnamese enterprises are mostly small vendors. Along with limited research, when selling goods to foreign countries, Vietnamese enterprises have not been able to create Marketing plan for Dragon Fruit. Therefore, we failed to create the awareness from foreign consumers.
SOLUTION
Standardization
Recognizing the high potential of fruits and vegetables in Vietnam, experts are also alarmed at the new risks and challenges to its exports in the future. It means that exporters should try their best to assure the product quality, even when it is not easy and takes time and money in the short term. All steps in the supply chain, from production to packaging must be safe.
Unify product quality standards throughout the country in accordance with international food hygiene and safety standards
Strengthening the management of dragon fruit, growing area based on the approved plan;

The production of dragon fruit must be oriented in accordance to GAP standards;

To carry out synchronously from the production to processing stages under the provisions of the Law on Food Safety;
Product diversification
Research and develop new plant varieties
In addition to the White Flesh variety, there are other varieties such as Red Flesh variety named LĐ1, Purple and Pink Flesh variety named LĐ5. Diversification of varieties will contribute to diversified products in the market while reducing competition pressure for traditional White Flesh variety. This is true especially for the LĐ5 variety which have the advantages of long-term preservation, good quality, beautiful appearance, high disease resistance that promise a new potential future for the dragon fruit production in Vietnam.
Producing processed foods
Diversify products to make full use of post-harvest results. Enterprises are recommended to invest more in deep processing, which allow them to diversify products and markets. In addition to promote processed products, advanced preservation technology should be applied to develop the fresh products segments in high quality market.
Established production facilities to export processed food instead of exporting raw material.
Promoting trade activities
In order to further support exportation of the fruits and vegetables, the Vietnam fruits association and competent agencies should push forward negotiations to remove trade barriers and find out new exports and niche markets. Apart from annual trade promotion activities, market research and product brand development should be customized for each target market, so that it satisfies local consumers and assures the stable position of Vietnam products in foreign distribution chains.
Date submitted: September 10, 2019
Reviewed, edited and uploaded: October 18, 2019