VIETNAM'S AGRICULTURE IN THE PAST DECADE
Vietnam is an agricultural nation with a natural area of 331 699 km² (mainland), positioned 65th in the world, of which agricultural produced land area is 10.12 million ha. Vietnam's population is 96,208,894 people (as of 1/4/2019), ranked 14th in the world. Vietnam belongs to a country with narrow land and crowded people (average area of land per capita is just 0.074 ha, equivalent to 38.5% compared to the average land area in the world (0.192 ha).
In 2018, GDP reached 244.5 billion US$ (WB, 2018), ranked 47th/211th and GDP per capita was 1,964.5 US$, ranked 131/192 countries in the world. Regarding structure, agricultural, forestry and fishery sectors accounted for 14.57%; industry and construction accounted for 34.28%; service accounted for 41.18%. However, according to the 2015 statistics of the World Bank, Vietnam's GDP per capita in 2014 was only 55.4% compared to Indonesia, 65% compared to the Philippines, 37% compared to Thailand and 6.7% compared to Singapore (WB, 2018), Vietnam's human development index is not high, reaching 0.683 (2015) - ranked 115th in the world.

Overview of Vietnam's economy in the period of 2000-2018 (Table 1) shows that GDP growth rate is 5-6% per year, in 2018, it increased 8 times compared to year 2000 and the GDP per capita also increased nearly 5 times at the same time. Particularly, it is easily noticeable that exportation increases rapidly, reaching US$ 244.7 billion, trade surplus reached US$ 7.2 billion.
Before 1986 year, Vietnam was a country with a centrally planned economy. After "Doi Moi" since 1986, Vietnam's economy has made great progress and reached average growth rate of about 9% annually from 1993 to 1997, especially after America's lifting embargo to Vietnam on 1994. GDP growth reached 8.5% in 1997, falling to 4% in 1998 due to the impact of the Asian economic crisis in 1997, up to 4.8% in 1999, 6% -7% in 2000-2002 and 7.08% in 2018 (GSO, 2018).
In the agricultural sector, according to the General Statistics Office (2019), the agriculture, forestry and fishery sector increased by 3.76%, contributing 8.7% to the overall growth rate; industry and construction sector increased by 8.85%, contributing 48.6%; service sector increased 7.03%, contributing 42.7%. In which, the value of crop production increased by 2.52%, animal husbandry increased by 3.98%, fisheries reached 6.5%, (aquaculture increased by 7.14% and exploitation increased by 5.49%).
Regarding cultivation, in 2018, 185,700 ha of ineffective rice land was converted into aquaculture, fruit trees and crops, and animal feed plants for higher economic efficiency in the whole country.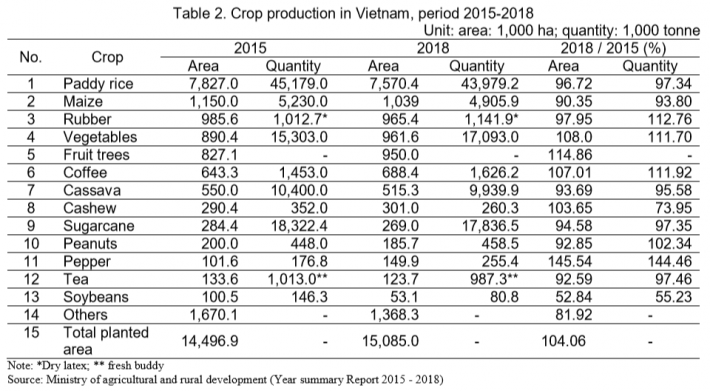 Compared to 2015, rice production area in 2018 reached 7.57 million hectares, down by 3.3% and output fell 2.7%. The area of corn and soybeans was hoped to be increased on rice land to reduce imports but declined actually10% with 6.2% of production with corn and 47% with 45% of production with soybeans respectively.
For industrial crops, the area increased by 7%, output increased by 12%; rubber area decreased by 2%, but dry latex output increased by 12.7%; For tea, both area and output decreased by 3-7%. Particularly, the output in 2018 dropped seriously, to 26% even though the area still increased by 3.6% due to drought; while pepper increased too fast, reaching 149.9 thousand hectares, equivalent to 45.5% in area and 44% in volume, causing supplied source to exceed demand so prices fell nearly 100%.
The area of fruit trees in 2018 reached 950,000 hectares, an increase of 14.9%. The output and quality of major fruit trees with advantages of the whole country and each region increased sharply, some types of plants increased sharply such as mango, which increased by 5.7%; orange rose 9.1%; pomelo rose by 12.2%; longan increased by 8.4%; lychee increased by 60.6%.
For animal husbandry, in 2018, the total number of pigs in the whole country increased by 14.31%, but in 2019 it is likely to reduce deeply due to the cholera of African pigs (destroyed 3.5 million animals). Raising cows, especially dairy cows and poultry raising has increased quite well. Cows increase by 8.12%, of which dairy cows increased by 25.4%; poultry herd increased by 19.6%.
 Total production of live meat reached 5.37 million tons, an increase of 11.7%; of which pork increased by 9.3%, the beef increased by 11.7%, chicken increased by 20.8%. Milk production reached 936 thousand tons, an increase of 29.4%; eggs increased by 31.2% (Table 3).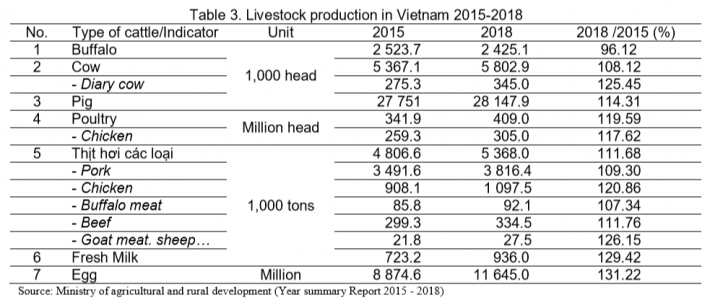 In addition to regular diseases, a serious problem of Vietnamese livestock is that feed costs are too high due to the large proportion of imported materials. In 2017, Vietnam has 209 animal feed factories, including 64 foreign factories and 145 domestic-invested factories. Industrial food production increased rapidly from 15.85 million tons in 2015 to 20.15 million tons in 2016 and 24.48 million tons in 2017.

However, Vietnam's industrial feed production is mainly based on imported raw materials with a volume of 16.3 million tons in 2017 and 19.5 million tons in 2018. Soybean corn and dried beans are materials with blocks. The largest import volume is 9 and 6.2 million tons in 2018. Notably, all of the dietary supplements, enzymes, probiotics, etc. must be imported, making the price of livestock products soar.

For fisheries, total production in 2018 (Table 6) reached 7.75 million tons, up to 21.26% compared to 2015; in which exploitation increased by 33.64%; aquaculture increased by 12.2% Production of various types of shrimps increased by 11.1%, pangasius increased by 23.3% compared to 2015. Production structure tended to increase aquaculture and reduce fishing.
For forestry, in recent years, there has been a dramatic change in many aspects and a successful transformation of the forestry production model based on the exploitation of natural forests into plantations. Production forests are not only expanded in the area but also significantly improved in productivity and quality.
Statistics of some basic indicators in forestry production in the period of 2015-2018 (Table 7) and 1993 - 2017 (Table 8) are convincing evidence of the change of Vietnamese forestry production in one in the last quarter of the century, the coverage increased from 28% to 41.2% thanks to the increase of nearly 5 million hectares in the same period.
Currently, the forestry sector continues to restructure andfocus on protecting and enhancing the care of planted forests; promote intensive farming to improve productivity and quality of forests; strictly implement the policy of closing natural forests; strictly control the transfer of forest use purposes; international market study for export of wood and forest products.


In 2018, localities have transferred about 60,000 ha of small timber plantation into big timber business, bringing the total area of large timber plantation nationwide to about 130,000 ha. FSC certified forest area increased from 134,980 ha.  In 2015, there were 245,061 hectares in 2018. The volume of timber harvested from concentrated plantations increased, meeting about 80% of the demand for raw materials for the wood processing industry (before 2010 can only meet about 20%). 
The proportion of planted forest area from seed sources to control and certify tree lots is 85%. Localities have actively implemented the Scheme on protection and development of coastal forests to cope with climate change in the period of 2015 - 2020, in 2018, newly planted 2,400 ha of coastal protection forests.
TRADE IN AGRICULTURE, FORESTRY AND FISHERIES IN VIETNAM
Vietnam's agriculture has participated in the integration process and globalization of trade activities in the world with generations of free trade agreements (FTAs), starting with the first generation free trade centers concentrated in liberalization of trade in goods (tariff reduction, elimination of non-tariff barriers), to second-generation freerolls by expanding the scope of liberalization to the most service sectors (eliminating market access conditions in related services sectors) and third-generation free-market transactions continue to expand the scope of free services and investments.
Up to now, Vietnam has signed 12 free trade agreements (FTA) with 56 countries and economies in the world. So far, there have been 10 official free trade contracts into force and Vietnam has implemented all WTO commitments. Since 2010, in addition to traditional BTAs, Vietnam has actively participated in new generation BTAs such as CTPP and EVFTA with the most extensive and comprehensive integration level ever.
In that global playground, Vietnam accepts its commitment to non-protection and compliance with most of the standards of member states and the world market. The trend of international integration in the coming time requires Vietnamese agriculture to accept competition immediately, complying with the standards set by the countries in all economic, social and environmental fields.
According to the Ministry of Industry and Trade (2018), Vietnam has trade relations with over 200 countries, including about 70 markets where Vietnam has an export turnover of over US $ 100 million. In 2018, total export turnover of Vietnam reached US$ 243.48 (up to 13.2% compared to 2017), import reached US$ 236.69, bringing the total import-export turnover to US$ 480.19 billion, up 12.2 %, equivalent to US$ 52.05 billion. The trade surplus of 2018 reached US$ 6.79 billion, nearly three times higher than in 2017 (US$ 2.11 billion). These achievements have made Vietnam the 27th exporter and the world's 25th importer.
Table 9 shows that the export turnover of agriculture, forestry, and fishery accounts for about 16-17% of the total national export turnover. Notably, the export turnover of domestic enterprises only accounted for 27-28%, and the contribution of FDI enterprises is main (over 72%).

Exportation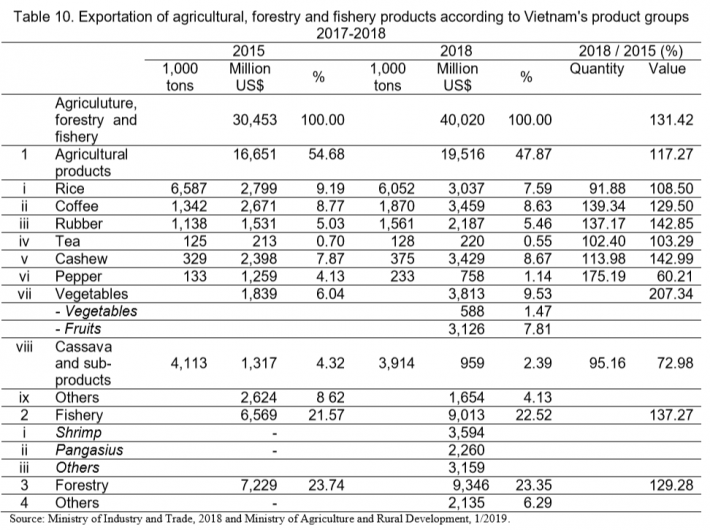 Vietnam is a large agricultural exporter, ranking 27th in the world, of which many products are in the top groups such as rice, coffee, pepper, cashew nuts, rubber, aquatic products, and furniture. In 2018, agricultural, forestry and fishery export turnover reached US$ 40.2 billion, increasing by 31.4% compared to 2015, of which agricultural products increased by 17.2%, fisheries increased by 37.2% and fishery increased 29.2%.
The group of products with the highest increase in the last 3 years is vegetables, up to 107%, while pepper has the highest reduction, down to 40%, even though the export volume still increased by 75% due to the price decline. Cassava and cassava products also fell 27% in value, although the volume only decreased by 5%. In 2018, many items with export turnover of more than US$ 3 billion such as rice, coffee, cashew nuts, vegetables, shrimp and furniture, and rubber and pangasius had exported value of more than US $ 2 billion (Table 10).
Export prices of many agricultural products increased sharply in 2017 but declined in 2018. Only 3 goods increased in 2018, rice, average price 501USD/ ton (up to 10.7%), tea reached US$ 1,710.7/ ton (up 5%) and cassava and products from cassava was US$394.9 / tons (up to 49.8%).
The largest agricultural and fishery export markets of Vietnam in order are China, EU, United States, ASEAN, Japan, and South Korea. In 2018, the export turnover of agricultural and fishery products to the above 6 markets reached US$ 20.31 billion, accounting for 76.4% of the total export turnover of agricultural and fishery products of Vietnam.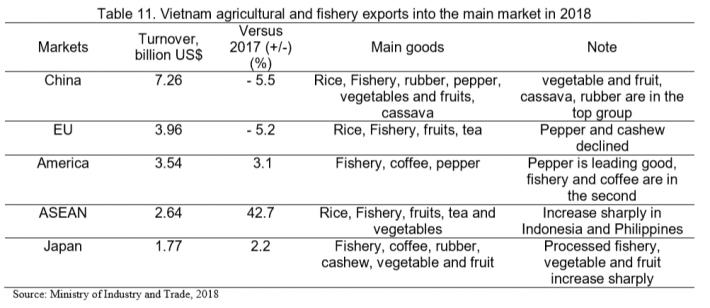 Currently, Vietnam's rice exports rank third in the world just after India and Thailand and go to about 150 countries and territories around the world, of which the Asian market accounts for 68.41% of the total exported rice, followed by the African market accounting for 14.93% and the Americas market accounting for 6.54%, Oceania accounting for 5%.
Regarding coffee, Vietnam is the second-largest exporter in the world after Brazil, to over 100 countries, of which 12 markets with turnover of over US$ 100 million (2018) include: Germany ( US$459 million), United States (US$ 340 million), Italy (US$ 245 million),Spain (US$ 219 million -), Japan ( US$ 206 million), Russia ( US$ 185 million), Philippines (US$ 158 million), Algeria (US$ 132 million) , Belgium ( US$ 130 million), Indonesia ( US$ 123 million), Thailand ( US$ 110 million), China (US$ 109 million).
Vietnam is the world's fifth tea exporter, after China, Kenya, India, and Sri Lanka. The main markets of Vietnam are Pakistan, accounting for 37.5% of the total turnover (US$ 81.6 million), Taiwan US$ 28.7 million, Russia, China, Germany, Philippines, India, United States, Saudi Arabia, Poland, etc.
Vietnam is currently the country with the largest pepper area and production in the world (followed by Malaysia, Sri Lanka, Brazil, India, and Indonesia). Vietnam is also the world's largest pepper exporter with 55-60% of the global market share, of which black pepper is 90% and white pepper is 10%. Currently, Vietnam is also the largest exporter of cashew nuts in the world.
For vegetables and fruits, China is Vietnam's largest market with 73.1% market share in 2018 (US$ 2.78 billion). Markets of importing fruits and vegetables from Vietnam increased rapidly including Cambodia (155.7%), Australia (45.6%), France (44%), Germany (41.8%) and the United States (37.1%). Regarding cassava and cassava made products, China imports the most (2.15 million tons), followed by South Korea (89,000 tons).
Regarding rubber, Vietnam exports to more than 70 markets and accounts for about 12% of the global rubber market, behind Thailand and Indonesia. China is Vietnam's largest rubber market with US$ 1.37 billion (2018). The next markets are India (US$ 145 million), Malaysia (US$ 76.2 million), South Korea, the United States, Taiwan, Germany, Turkey.
Regarding fisheries, Vietnam has exported to 160 countries and territories with a turnover of 2018 of US $ 9.01 billion. The main products are US $ 3.59 billion (US $ 2.44 billion white shrimp and US $ 817 million black tiger shrimp), pangasius (US $ 2.26 billion), ocean tuna, crab, squid and white crustaceans. 10 key markets for Vietnam's seafood imports account for 90% of the total turnover are the United States, EU, Japan, China, Korea, ASEAN, Canada, Australia, Mexico, Russia.
Vietnam exports shrimps to 89 markets, of which the 10 largest markets are the EU, the United States, Japan, China, Korea, Canada, Australia, ASEAN, Taiwan (China), and Switzerland with turnover, accounting for 95.9% of the total shrimp export turnover of the country.
Pangasius was exported to 129 markets, of which the 8 largest markets accounted for 80% of total exports, including the United States (549.5 million USD), China (US$ 483.6 million), the EU (US$ 243, 9 million), ASEAN, Mexico, Brazil, Colombia, and UAE.
Tuna exported to 101 markets, reaching US$ 652.9, of which 8 largest markets accounted for 87% of the total turnover of the United States (US$ 229.5 million), EU (US$ 158.3 million), Israel, ASEAN, Japan, Canada, Mexico, and China. Squid and octopus exported to 64 markets, reaching US$ 672.3 million, of which ink accounted for 52.7%.
Vietnam is one of the top 10 countries exporting wood and wood made products in the world with a turnover of over US$ 9 billion and has increased steadily over the years. There has been in the whole country currently 4 500 export wood processing enterprises, of which, 95% from the private sector and 93% are SMEs. FDI enterprises come from China, Taiwan, Japan, Korea, and EU.
Vietnam's wood and wood products have reached 120 countries, including the United States (US$ 3.9 billion), Japan (US$ 1.15 billion), China (US$ 1 billion), and Korea (US$ 935 million), the EU (US$ 770 million), Australia (US$ 193 million), Malaysia (US$ 102 million), Canada.
Importation of agricultural products
Total import value of agricultural and aquatic products in 2018 is about the US $ 20.56 billion, accounting for 8.7% of the total import turnover of the whole country with the following items: Animal feed and raw materials, corn, soybeans, cotton, wheat, vegetables, cashews, milk, and dairy products. Products that directly serve agriculture also include fertilizers and pesticides.
As a leading fishery exporter, Vietnam also imported fishery for processing and other needs with a turnover of US$ 1.72 billion (up 19.6%). Vietnam currently imports fishery from 86 countries, including India (US$ 344.6 million), Norway (US$ 178.6 million), ASEAN (US$ 151.4 million, mainly from Indonesia), China ( US$ 124 million), Taiwan, Japan, Russia, Korea, Chile and the United States, accounting for 73.8% of Vietnam's total fishery imports.
Animal feed and materials always account for a large proportion of the import structure. The value of imported animal feed 2018 is US$ 3.91 billion (up to 21.2% compared to 2017) with 3 main markets being Argentina (US$ 1.28 billion), the United States (US$ 681 million) and Brazil (US$ 472 million dollars). As for corn, the main raw material for processing animal feed, 2018 imported 10.18 million tons, worth US$ 2.12 billion, increased by 31.8% in volume and 40.9% in value compared to 2017.
The corn import market mainly comes from Argentina and Brazil. Similar to corn, soybean imports are still accounting for the majority and reach 1.82 million tons (the US $ 774 million), up to 10.8% in volume and 9.3% in value. Soybean import markets are the United States, Brazil, and Canada.
In 2018, Vietnam imported 4.88 million tons of wheat, valued at US $ 1.18 billion (up to 4.7% in volume and to 18.3% in value compared to 2017) from major markets like Australia, Canada and Russia. Cotton imports reached 1.57 million tons, worth 3 billion USD (up to 27.5%).
Regarding vegetables and fruits, Vietnam exported US$ 3.8 billion but also imported about US$ 1.75 billion in 2018, of which import from Thailand was US$ 681 million (39%), and China US$ 429.9 million (24.6%) and from other countries like Myanmar, Chile, United States, and India.
Fruits imported from Thailand include mangoes, rambutan, dragon fruit, jackfruit, durian, longan, mainly for re-export purposes. Chinese imports include cabbage, carrot, kohlrabi, cauliflower, potato, plum, apple, pear, yellow melon, pomegranate, grape, tangerine, and flowers. Imported from the United States, Australia, South Korea, South Africa with apples, pears, grapes, cherry, kiwi, etc.
In summary, Vietnam is an agricultural country, with low average income and many opportunities but also has many challenges such as climate change (the biggest challenges) and sea-level rise, low social investment (agriculture) less than 6%). Global Competitiveness Report 2018 shows that most of Vietnam's targets are in the lower half of the ranking, in which national competitiveness is only 77/140, infrastructure is ranked 75/140, the creative capacity ranked 82/140, the market of agricultural products (quality) ranked 102/140 even though the market size ranked 29/140.
 This indicates that export is much, but its turnover is not high (Table 14). Not to mention, the level of skills and the level of business dynamics are also very low, ranking respectively 97th and 101st in the world. Perception of this is very important to have a suitable solution for sustainable and effective development.

CURRENT ISSUES OF THE FARMERS AND RURAL SITUATION IN VIETNAM
In rural development after the "Doi Moi", especially in recent decades, to affirm the role of farmers ' economy as a subject of agriculture in Vietnam, farmers are still encountering some of the following difficulties:
- Some regions are not eligible for poverty reduction
Although the country has had drastic changes in poverty reduction, in some regions there are still extremly poor farmers; and poverty reduction is not yet tied to rural economic development leading to the unstabble situation with impoverishement.
- Non-fair business                                                                                                                             
The business between rural and urban are now generally not fair. Farmers are exploited by private traders. The State's development strategy is to build a contract farming regime; however, this will make farmers dependent on the enterprise, becoming the enterprise's labours leading to the monopoly of the enterprise. Because the price setting is determined by the enterprise, and farmers do not have the capacity to bargain in the market.
- Incomes of farmers are lower than that of urban people
The surplus agricultural labours caused the urban migration for higher incomes. To be able to become an industrious country, it is neccessary to withdraw approximately half the labour labours from agriculture to other sectors. This migration process is positive as it will help the rural to reduce excess labor, privide jobs and increase labour productivity. However, today's labor in rural Vietnam is suffering from rapid aging, lack of young farmers who can become agricultural entrepreneurs, big family farm owners; and rural industrial and services entrepreneurs. That can strenthen the transformation of the rural economic structures.
- The Issue of fake agricultural products make farmers more disadvantaged
Currently, fake agricultural products without origin information and commercial fraudsareabundant in the market. Input prices are rapidly rising but output pricesare decreasing, leading to  to dificulty to farmers.
- Agricultural land price is lower than that of  non-agricultural
The farmer's protection of the ownership of their land is legitimate. The land is inheritant assets; lacking it, they cannot survive. Nevertheless, their land is taken, the compensation is for a negligible compared to the price of the land after transforming its use's purpose. If the State increases the limit the land ownership into too high level, unfair is created. The increase of the household farming scale should benefit every farmer rather than just for some rich people. Many farmers increase their scale by together developing specialized cooperatives. The cooperatives will help the average farmers to become own biggger farms thanked to credit services, group purchase of inputs, providing technical services, group sale of products with uniform quality assurance. Replicatingmodels from foreign countries in land market developement resulted in the land's investment, unreal increasing prices, and the loss of agricultural land. In some countries that have private ownership of land, a strict controlof the land use of land is found.
- Farmers are not benifited from social welfare
Farmers are the ones who barely get benefits from social welfare, especially in terms of education and health. Rural social issues are not yet resolved in a fundamental way, for instance, disaster and market damage insurance, and social insurance are still lacking. According to the global lesons, it is impossible to solve the social issues of the countryside only by market measures. In Vietnam, the workforce that emigrated to big cities is undercontrolled, is becoming second-type citizens of the cities without obtaining social welfare.
- Hazardous to contaminated environment and natural disasters
The rural environment is now severely contaminated, harms farmer's health. This is firstly due to the use of plant protection chemicals, following to the waste substances of livestock and handicraft villages, then to wastewater from factories. The solution is not only done by the State and enterprises. World experiences show that the problem should be more effectively solved by the whole community. Local communities can combine this to economic activities, job and income creation for farmers. If rural tourism development is managed by the community, farmers will have the benefit of protecting ecological and cultural heritage. Therefore, it is necessary to have insurance companies against disasters and harvest loss with the aid of the State if needed.
- Farmers have no right to protect their benefits
Farmers ' rights are not protected because of a lack of farmer unions. Farmers can be grouped in the weakest people who are less protected. Is farmer's association a farmer union? In general, workers have their own unions, why farmers don't have them? Those unions should take care and protect the rights of farmers migrating to the cities and the industrial parks because they are the human resource can become workers.
With these difficulties, Vietnam's household economy has encountered difficulties to be modernized and more effective. In order to develop commercial agriculture more effectively with a relatively high labor productivity, it is not to eradicate farmer household ' economy, developebig farms but to establish a new type of cooperatives processing and merchandising member's products, and accessing the market. To expand production scale, implement fair business, it currently lacks a system of supporting services for farmers in building new-type cooperatives; starting with the establishment of collaborative groups, which then become cooperatives. This is the basic measure to continue developing the farmer household's economics since realesing the Resolution 10, developing small household farms to large scale farms like those of developed countries.
During this process, rural farmers will become agricultural entrepreneurs, big family farm owners, industrial entrepreneurs and rural services that promote the transformation of rural economic structures, ensuring food security and support for industrialization. The transfer of farmers to urban and industrial zones should have a specific program like the previous new economic program with planning and training program for human capital development.
Farmers' rights are not protected because of a lack of farmer unions. Farmers are the weakest people who cannot bargain in the market so that they face unfair trade during transaction. Farmers are lacking sovereignty over land, if they lost their land, no one advocates. Following the advice of the developed countries in developing the field market has resulted in the land investment, which led to unreal prices in the market. In some countries that have private ownership of land, a strict controlof the land use of land is found. There is a need of having a good land policy that promotes labour transfer between rural and urban areas, land protection and development, facilitating agricultural and rural development.
Implementing the policy of the "Doi moi" in agriculture, the State withdrew its role in managing, operating the household's production and marketing in order to promote their dynamic and creative properties in economic development. After more than 30 years of the "Doi moi", Vietnam's agriculture has been dramatically developed, ensuring food security in the national scale with a diversity of the household production activities; some agriculture activities start to specialize, many technical advances are applied in production. This development has a huge contribution to farmers' organizations and private sector engaging in the provision of agricultural services in the rural area.
MAJOR AGRICULTURE-RURAL POLICIES OF VIETNAM FOR THE PAST 10 YEARS
In the 20th century, Vietnam's agriculture has obtained a brilliant success with the policy of "green revolution" and farmers household' economy. However, Vietnamese agriculture and rural area are facing the challenges of sustainable development and international integration. Therefore, rural and agricultural policies need to change. Resolution 26 (2008) of the Party on Tam Nong: Agriculture-Farmers-Rural area has already been showing that orientation.
Rural and agricultural policies for the past 10 years of Vietnam can be summarized through 2 main policies being Agricultural restructuring and New rural development.
To improve income for farmers and the competitiveness of Vietnamese agricultural products, the Prime Minister approved the scheme "restructuring the agricultural sector towards enhancing value added and sustainable development" at the decision 899/QD-TTg dated 10/6/ 2013, in which the goals are: i) to maintain growth, improve efficiency and competitiveness through increased productivity, quality and value; to meet the needs and tastes of the domestic consumers and promote export.
To  strive to achieve an average GDP growth rate of sector  between 2.6% and 3.0% / year in the 2011-2015 period, from 3.5% to 4.0%/year in the 2016-2020 period; ii) Improve income and improve living standards for rural residents, ensure food security (including nutrition security) in the immediate future and castles, contributing to reducing poverty rates.
By 2020, rural household income increased by 2.5 times compared to 2008; The number of communes meeting the new rural criteria is 20% by 2015 and 50% by 2020 and iii) Strengthening natural resource management, reducing greenhouse gas emissions and other negative impacts on the environment, well exploiting environmental benefits, improving risk management capacity, proactively preventing natural disasters, increasing the national forest coverage rate to 42 - 43% in 2015 and 45% by 2020, contributing to implementing national green growth strategy.
After 6 years of implementing the Scheme, Vietnam's agriculture achieved a growth rate of over 2.65%, the value-added rate in the total production value of the whole sector increased from 63.9% in 2012 to nearly 80% in 2018 In terms of structure, the proportion of fishery value increased from 22.48% in 2012 to 24.95% in 2017; forestry production value increased from 2.69% to 3.79%, agricultural, forestry and fishery exports increased sharply, averagely by 6.1% / year, annual trade surplus accounted for 20-25% of the total exports.
Thereby, agricultural labor productivity increased from VND 25.57 million / labor in 2012 to VND 35.5 million / labor in 2017 (up to VND 9.93 million, or 6.67% / year, thus, the average household income in rural areas increased from 75.8 million in 2012 to 130 million in 2017 (up to 1.71 times).
The National Target Program on New Rural Development (NTM) in Vietnam is implemented in accordance with Decision 800 / QD-TTg dated 04 June 2010 by the Prime Minister (after calling it Decision 800). The National Assembly has built a common goal of "Building a new rural structure. Socio-economic infrastructure with good infrastructure, reasonable structure and reasonable model of social services, linking agriculture with rapid development of industry and services, linking rural and urban development according to planning, rural democracy, stability, and rich national cultural identity, environment protected ecology, natural preservation, and the quality of people's life and well-being are enhanced, socially-oriented ". The specific goal of the program is that by 2015, 20% of communes will meet NTM standards and by 2020, 50% of communes will meet the standards.
Content of the construction policy program of NTM includes 11 issues: (1) Planning to build new villages; (2) Social infrastructure development; (3) restructuring, economic development, income increase; (4) Poverty reduction and social security; (5) Renovate and develop effective forms of production organization in rural areas; (6) Developing education and training in rural areas; (7) Development of health, health care for rural residents; (8) Building a rural culture, information and communication life; (9) Clean water supply and rural sanitation; (10) Raising the quality of the party, the right, the social-economic policy on the board; (11) Maintaining security and social order in rural areas. The new rural development program focuses on the commune and district level with the system of 19 criteria for evaluating the new rural standards.
After 10 years of implementing the New Rural Program, some results on the rural economy are as follows:
The rural occupational structure has shifted from agriculture, forestry, and fisheries to industrial, construction and service activities.
The proportion of agricultural labor in the total social labor has decreased from 48.2% to 38.1% in the period of 2010-2018. This is a positive result and soon reached the target compared to the plan to reduce the rate of agricultural labor to below 40% by 2020.
In rural areas, the rate of agricultural, forestry and fishery households decreased from 62.15% to 53.66%; industrial, construction and service households increased from 33.44% to 40.03% in the period of 2011-2016.
The form of production organization was renewed, by 2018, Vietnam had 39 agricultural cooperatives, 13,400 agricultural cooperatives, and 35,500 farms, the number of households working in agriculture, forestry, and fisheries accounted for less than 53.7%.
As of May 5, 9, Vietnam has about 11,200 agricultural enterprises, if, including agricultural enterprises and other field enterprises that invest in agriculture, the country has about 49,600 enterprises.
Of the total agricultural enterprises today, there are 89% of the non-state sector, 8% of the State sector and 3% of the FDI sector. 27,000 value chain production models have been established, high-tech application, forming a concentrated production area towards large-scale goods.
Income and life of rural people have been continuously improved, in the period of 2008-2017, the average income per capita/year in rural areas has increased 3.5 times, from 9.15 million to 32 million VND. In the period of 2012-2017, the average household income in rural areas increased sharply, from VND 75.8 million to nearly VND 130 million.
The income gap between urban and rural areas was narrowed from 2.1 times in 2008 to 1.8 times in 2017. In 2016, the proportion of households with the largest income from agriculture, forestry, and fisheries accounted for 47.9 % of total rural households. The poverty rate decreased rapidly, down to 5.35% in 2018.
SOME SOLUTIONS ON AGRICULTURAL AND RURAL POLICY TOOLS
In order to contribute to improving the rural agricultural development policy system in Vietnam in the new period, some specific solutions should be implemented as follows:
Define more clearly the legal status and socio-economic role of nearly 11 million farmer households as a self-control economic unit - basic in rural areas;
The innovation of awareness and based on that, the innovation of Cooperative Law and policies on cooperatives in accordance with the nature of the cooperative economy. The State already has a scheme to develop cooperatives, however, it is necessary to direct the implementation in accordance with the farm household's economic level and characteristics of each region and each domain, avoiding the development of forms.
The State should have a general scheme on transforming the growth model of agriculture to deep development with positive and appropriate steps; which will include sub-projects that transform into deep development of the most essential areas.
From the content developed in-depth, associated with the product market strategy to implement restructuring agriculture in general and in particular fields. Synchronizing in this project is the task of institutional innovation, science and technology development, human resource training, infrastructure construction, etc. to effectively implement the transformation of the agriculture growth model  to develop in-depth.
In order to accelerate the process of changing agriculture to develop in-depth, the State needs to complete the mechanism of scientific and technological activities in the agricultural sector in order to promote research and transfer and application of scientific and technological advances from abroad, combined with increasing investment in domestic scientific and technological research, strongly encourage economic sectors to participate in scientific and technological research and transfer; have a project on development and application of science and technology in agriculture for export sectors, large-scale goods, focusing primarily on stages such as seedlings, children, productivity - high quality, public processing and preservation technology, advanced and modern production processes, etc.
The State should promulgate a synchronous system of mechanisms and policies to encourage the strong development of enterprises in agriculture and rural areas, especially processing and consuming enterprises of agricultural products and service provision "inputs". - output "for large commodity production areas. To synchronously build policies to encourage and promote science and technology enterprises in agriculture in association with forming large-scale and high-quality commodity farm produce areas.
The State should have a Scheme with attached mechanisms and policies to direct, guide and support the formation and development of models and forms of production and business links, development of agricultural value chains (especially the forms of linkage of responsibilities, benefits and sharing of risks) among farmers producing goods with other entities (processing enterprises, science and technology units, enterprises providing services, commercial enterprises ...) according to the value chains, especially for export agricultural products and modern consumption channels in the country. Priority should be given to controlling food safety and supporting farmers to apply buyers' standards (organic, good agricultural practices ...), applying information technology in traceability.
The State should have a Scheme and attached mechanisms and policies to promote land circulation more effectively, both economically and socially in the direction of developing agricultural commodity production, in association with development process - differentiation - stratification of household economy in accordance with the conditions of each region (first of all for the Red River Delta and Mekong River Delta) in the process of industrialization and modernization. chemistry, urbanization, and non-agriculturalization.
Reformation - Innovation of the human resource training system in the agricultural sector. Along with the innovation and modernization of the training program content associated with the practical needs of each field; There should be a policy mechanism to link training with scientific research and technology transfer, with the commercialization of S&T activities results in production and business chains. At the same time, the State needs to advocate and support the development of training institutions for farm owners, cooperative managers, through the system of state-owned training institutions or formed in cooperative organizations, career association. This is a very urgent requirement nowadays and has a long-term strategic mean.
REFERENCES
GSO, 2019. Vietnam Export and Import Report (2016-2018)
Ministry of Industry and Trade, 2018. Vietnam Export and Import Report 2018
Ministry of agricultural and rural development, 2018. Year summary Report 2015 – 2018.
MARD, 2018.  Year summary Report 2018 and Planning for 2019
WB, 2018. Available from www.tradingeconomics.com)
Ministry of Industry and Trade, 2019
General Department of Customs, 2019
Date submitted: August 1, 2019
Reviewed, edited and uploaded: August 26, 2019